Last October while traveling in Cambodia my girlfriend and I met an extraordinary woman named Ponheary Ly. During the 1970's the Khmer Rouge killed many of the country's intellectuals and educators, including her father and thirteen other members of her family. Ponheary somehow miraculously survived, and later on she became a teacher herself, knowing that education was critical to the rebuilding of her country. But money for schools was and still is extremely limited in Cambodia. So in 1998 she became a tour guide for Western tourists to earn extra money, and soon thereafter with those extra funds she started a project to get rural children back to school and help them stay there.
In 2005 Ponheary then met Lori Carlson who my girlfriend and I likewise had the pleasure of meeting while in Cambodia last year. Lori is quite an amazing woman herself. Living in Austin at the time, she had first come to Cambodia on vacation and hired Ponheary as a tour guide. Lori was so inspired by Ponheary's work in educating these children that upon returning home she set up a foundation in order to help Ponheary in her efforts. And two years later she actually moved to Cambodia to work with Ponheary and the kids full time. Since it's inception, the Ponheary Ly Foundation has put well over 2000 Cambodian children through school, continues to modernize many facilities and attracts visiting instructors from all over the globe.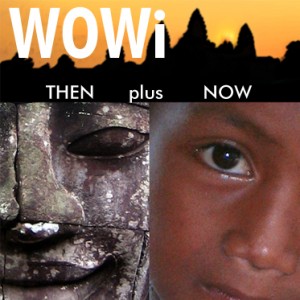 I feel extremely fortunate to have met Ponheary and Lori on that trip, and by another stroke of fortuitous luck, I met Kim Smith earlier this year. Kim is a co-founder of WOWi which stands for Windows of Wonder Institute. As a 501(c)3, non-profit organization based in Austin, WOWi's mission is to combine art, the web and education to build and connect communities through interactive digital media environments. And due to Kim and his wife having taken a trip to Cambodia a couple of years ago, he had personally witnessed the difficulties that so many of the children there face. Because of this experience he began trying to figure out a way to help these children via WOWi. A mutual friend knew of my background and interests in Southeast Asia, so he introduced Kim and me to each other. After Kim explained to me what he was trying to accomplish, I ended up joining the team as Director of Overseas Projects, and we partnered with the Ponheary Ly Foundation to help them educate as many of their kids as we can.
WOWi now needs your help in assisting Ponheary Ly with boots-on-the-ground support. We are seeking investments from donors to cover the costs to send a skilled team of American university students and digital media industry professionals to Siem Reap, Cambodia. For two weeks, this team will train the students of the Ponheary Ly Foundation's Tchey School. They will also take along and install equipment, much of which will remain behind with the students.
Tchey School Computer Lab
During the team's fourteen days in Cambodia, Tchey students will be exposed to different methods of digital media creation, from high end documentation to social media. High-resolution digital recordings, some in 3-D, of selected architectural monuments in the Angkor Wat temple area will be the main focus. This digital imagery and teaching will be a form of cultural preservation, education and a means to celebrate Cambodian culture in large-scale, interactive displays elsewhere in the world. In the spirit of "teaching a man to fish" — that is, in the spirit of fostering of independence and self reliance — WOWi intends that Cambodians will eventually have sovereign control over both this type of local training and of the digital media representation of Cambodia to the rest of the world.
By emphasizing education in 21st century skills, this project represents a total reversal of what the Khmer Rouge stood for. It represents a true step towards returning Cambodia to its ancient glory, now through open exposure to the rest of the world and education rather than through isolation and brutal suppression.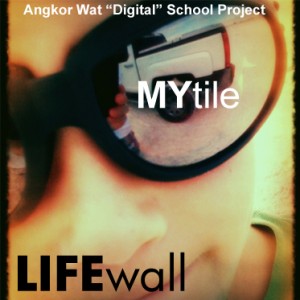 And as a donor, WOWi will reward you with virtual tiles called MYtiles™ that are user-designed and placed on the LIFEwall™. To creat a MYtile you will simply upload a special photo or some other digital image, add some personal text, and then add a link to it from any site on the internet to make your MYtile not only a celebration of your generosity, but a live and persistent gateway to other things that are important to you. You will also have the option to enlist the talents of digital media artists to create MYtiles as a way of commissioning a small work of digital art. Likewise, you will have the option of purchasing MYtiles that PLF students create. This last option will actually directly provide these students with an opportunity to strengthen their technical and creative skills, something that will help them get a better job later on in life and break the cycle of poverty.
The LIFEwall™ will be a very large virtual wall viewable on the internet and on large displays at live venues by mid-2012. As a virtual wall it will grow in size as MYtiles are added, so it will be big enough for every person in the world to place as many MYtiles on it as they choose. LIFEwall™ is a way to celebrate the generosity of individuals, and it's also a way of looking at the world. Walls usually separate. LIFEwall™ brings together.
Please help us bring the world closer together through education by making your donation now – thanks!