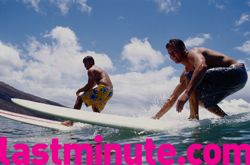 Out of the blue do you sometimes get an irresistible urge to get out of town for a bit? Perhaps stress from work or family matters necessitates a little battery recharge time in one of your favorite cities or on one of your favorite beaches. Maybe some other plans for a long weekend got canceled at the last minute, but you still want or feel like you need to get away. Or perhaps you knew you had some time coming up for a getaway, but you were so freaking busy with life in general that you kind of dropped the ball for planning something out in advance. Gee, does that ring a bell?
Well for any of these situations as well as for many others there are definitely some travel deals out there to be had. Because as the law of supply and demand dictates whenever there are unfilled seats, hotel rooms, rental cars, etc. and the time to rent them out or sell them becomes short, then the prices for those items tend to go down. So the question for us cyber-deal-hunter-travelers becomes which websites are best for finding these last minute bargains?
Well one of the best sites for looking for great last minute travel deals is, as the name implies, lastminute.com
. I actually used to use its predecessor, Site59.com, several years ago. Visiting lastminute I see several things have changed. First of all, it's not only 'last minute' deals that are offered. It actually is also kind of an aggregator site like KAYAK.com or Wego.com where you can do searches for airfares, car rentals, hotel rooms, etc. that are not necessarily last minute. However, as you can see for yourself when you visit the site, there is a tab towards the top of the homepage labeled 'Last second deals' which is what we are focused on today. And for me this is by far the most valuable section of the website anyway.
Likewise it's now much easier to do searches and find the best deals for destinations that you are interested in. This is especially true if you have flexible travel dates and/or you are open to considering different travel destinations.  For example, when I did a 'Last second deals' search for a trip leaving from Austin going to San Francisco using 'See All Dates' for 'Depart' and 'Return' the site laid all the options out for different departure and return dates for a trip to San Francisco with the different prices in a very easy to read format. Likewise it gave starting prices for nearby destinations, other California destinations, and some other big city destinations around the country. This allows you to quickly and easily see where some of the best travel values are for the money for the upcoming dates that are available to you.
Oh, and the prices given include all taxes and fees which is nice too. I don't know about you but I find it pretty annoying when a travel website gets me all excited about a great price, and then towards the end of the purchasing process they add on a bunch of additional costs. And for those of you located in Australia, New Zealand, and various countries in Western Europe you can access travel packages that leave from your respective countries by clicking on the appropriate flag icon towards the bottom of the page.
The only possible about this site that I think I should mention is that I did see some online reviews that said it was hard to make changes after you had made your purchase. Well I of course would prefer that changes could be easily made, but in all fairness I did see explicit wording that clearly states 'No Refunds or Changes'. I imagine margins are pretty thin on these deals, so I can understand why it is like this. Anyway, bottom line I would say that you should probably be pretty sure you won't need to make any changes before you make your purchases, because it may be hard if not impossible to do so if necessary.
Have any of you had any experiences with lastminute.com, good or bad? Likewise, do any of you have any other websites to recommend for finding last minute travel deals? I plan to add another section to my site for last minute and package deals in the near future, so your input would be helpful and appreciated.
Travel well and save money!