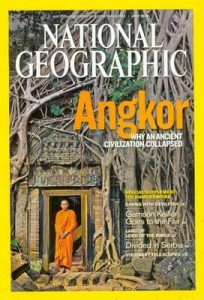 As a kid whenever I thumbed through the collection of National Geographic magazines that my family had I was always amazed at how different and exotic so many of the other places in the world were. But the set of pictures that made the biggest, longest lasting impression on me during my childhood were the ones of the temples of Angkor in Cambodia. Of course, being so young, I really had no idea where in the world this ultra-exotic set of ruins really was. And because it was so different from anything that I had experienced in my sheltered little world in Fort Worth, Texas, it was beyond comprehension at that time that I could actually ever visit such a place. And besides, the 1970's and 1980's were dark and difficult times to say the least for Cambodia, making it a very difficult, if not impossible, place to visit.
But the political climate there is completely different these days, and tourism is currently the second largest industry in the country. I've been lucky enough to visit these enchanting ruins several times now, and if you haven't done so I couldn't recommend it more. Of the many ancient ruins throughout the world that I've had the privilege of seeing, the temples of Angkor are certainly some of the most stunning, right up there with Machu Picchu, the Taj Mahal and the Great Pyramid of Giza. So it doesn't surprise me at all that Angkor Wat is now becoming one of the most favored, up-and-coming travel destinations for travelers from around the globe.
Angkor Wat
So what exactly is Angkor Wat? Well, it's definitely more than just a place where Lara Croft, Angelina Jolie's character in the movie Tomb Raider, liked to hang out.  And when people say Angkor Wat they are often actually referring to the vast set of temples, more appropriately called the temples of Angkor, which are about 3 ½ miles from the modern town of Siem Reap where most visitors to the area stay. Declared a World Heritage site by UNESCO in 1992, these temples were built between the 9th and 15th centuries during the Khmer Empire, making it the largest preindustrial city in the world. It is now believed to have had a population of up to one million people. To put that into perspective, London had only about 50,000 people at that time. The temple complexes of Angkor were the heart and soul of the Khmer Empire, and they still are so for modern day Cambodia.
Angkor Wat proper is the largest and most breathtaking of all the temple complexes in the area. It is the world's largest religious building and has a 210-yard wide moat around it. Originally built as a Hindu temple, it was later dedicated to Buddhism, a religious designation that remains to this day. Its overall design is fairly symmetrical, and many parts of it are covered with exquisite bas-reliefs that describe important events in Khmer mythology and history. And if you aren't too afraid of heights you can climb up to the upper level for some amazing views.
One of the gates of Angkor Thom
Angkor Thom, which is about a mile away from Angkor Wat, was a fortified city that covers an area of around 3 ½ square miles. It was built in the late 12th century by Angkor's greatest king, Jayavarman VII. And unlike Angkor Wat it is comprised of several structures as opposed to one large one. And as impressive as Angkor Wat is, many people actually find visiting  Angkor Thom even more moving and invigorating. Seemingly otherworldly with its 54 towers decorated with 216 serenely smiling faces, Bayon is the most prominent part of the complex and is located in the center of the city. The 400 yard long Terrace of the Elephants is another highlight as well as the 5 enormous gates that served as the main entry points of the city.
Another must-see of the temples of Angkor is Ta Prohm. Given that it is still covered with jungle, like all the structures of Angkor were before restoration began several years ago, it has an almost mystical feel to it. The restoration work done there has actually cut away most of the foliage that was previously there, but the towering trees that are left whose roots systems seem to be devouring parts of the structure really help give you that Indiana Jones kind of feeling. And the cool shading that the trees provide make Ta Prohm one of the best places in all of Angkor to soak in the surroundings and wonder what it was like to live there back in the day.
Banteay Srei
Without intending at all to dismiss the beauty and importance of the other temples and structures which I don't have enough time or space to write about, I lastly highly recommend not missing Banteay Srei which is a temple about 15 miles away from the main group of temples. It is much smaller than most of the sites in Angkor, but its intricately carved red sandstone earned its nickname as the "jewel of Khmer art". Being smaller and quite popular it is best to try to get there early in the morning before the busloads of people arrive, and it's definitely worthwhile to check out the Land Mine Museum on the way back to Siem Reap afterwards.
If this very brief description of the temples of Angkor have piqued your wanderlust interests, here are a few things to think about if you plan to go:
Angkor Wat moat during the rainy season
When to go: As usual, the weather plays the biggest part in determining when to visit. December and January have the best weather with relatively low humidity, very little rainfall and cooler temperatures. But of course this also means the highest number of visitors will be there. March, April and May can be miserably hot for some people. Visiting in the rainy season of June through October can actually be quite nice as the rains fill the moats around the ruins and make the surrounding landscapes lush and green. And February, just before the scorching heat arrives, is quite pleasant as well.
Where to stay: With Angkor Wat becoming an evermore popular destination the nearby town of Siem Reap now has an amazing range of accommodations that can suit just about anyone's tastes or budget. There are small, basic family-run guesthouses that have rooms for like $3-15 as well as posh digs for the rich and famous for several hundred dollars. Then there is everything else in between. And no matter where you stay, most places provide an excellent value for what you pay by Western Standards.
Money: The official currency in Cambodia is the riel, but you can just as easily use US dollars anywhere with change often being made in riel. Make sure to bring bills that are in decent shape though, because heavily worn bills may not be accepted. And the best way to access more money once you get there is via one of the many ATM's around Siem Reap which disburse US dollars. Credit cards can be used at the higher-end hotels and restaurants, but typically a 3% surcharge is added straight to the bill.
And if you are interested in learning more about a tour to Cambodia that I am planning for early 2012, please contact me so that I can let you know more about it as things develop.
Travel well!