Vietnam is one of the hottest travel destinations in the world these days. According to the Vietnam National Administration of Tourism travelers from all over the world helped tourism grow there by an astonishing 34.8% in 2010! Its wonderful natural beauty, ancient traditions, and historical attractions are getting more and more attention of world travelers. Here is a Top 10 list of places to visit there if you are thinking of going yourself some time.
1. Halong Bay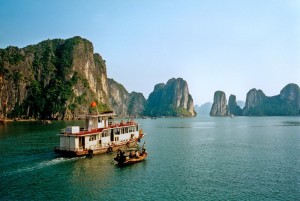 This UNESCO World Heritage Site is the top tourist attraction in Vietnam. This natural marvel is located along a 75 mile coastline of the Gulf of Tonkin in the northern part of the country and has around 3,000 limestone islands with a fascinating array of formations, similar to those in Krabi, Thailand. Most people cruise around the bay on a traditional junk (wooden boat), often for an overnight trip, which makes the excursion that much more interesting.
2. Hoi Ann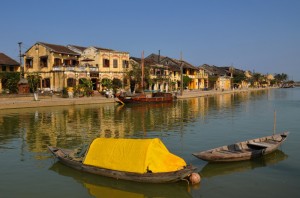 Another wonderful UNESCO World Heritage Site, Hoi Ann has been an international port since the 16th century. A picturesque town with narrow canals, it's sometimes called the Venice of Vietnam. A very charming place to explore, it's famous for its excellent tailors, interesting art galleries and narrow streets full of cafes that serve delicious food.
3. Cu Chi Tunnels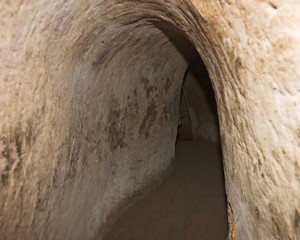 During the Vietnam War the Vietcong (VC) used this immense network of underground tunnels about 25 miles outside of Ho Chi Minh City (Saigon) as a hiding place from the Americans and the South Vietnamese. During the war the tunnels were like small underground towns with things such as kitchens, weapons factories, hospitals, command centers and the like. Tourists are now allowed to explore these elaborate mazes themselves.
4. Hanoi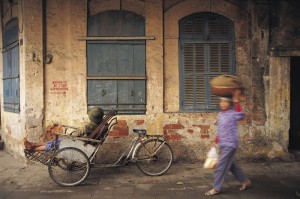 A more traditional and relaxed city than Saigon, Hanoi is a great place to walk around and just take in the sites. Some of the highlights are the Temple of Literature, the Mausoleum of Ho Chi Minh, the Ethnology Museum and Hanoi's Old Quarter known as '36 Streets'. It's a pleasant city with lakes, shaded boulevards and public parks with plenty of beautiful French colonial architecture to admire. And much like Hoi An there are plenty of little cafes to sit and have a cup of coffee while you take it all in.
5. Mekong Delta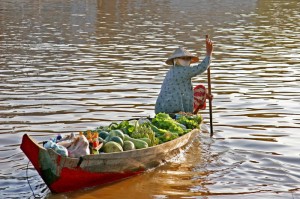 Located in the southernmost region of country, the Mekong Delta is Vietnam's breadbasket, producing about half of the country's rice. Lush and beautiful, it makes for a great boat trip down the Mekong where you'll pass colorful floating markets such as Cai Be and Cai Rang. Along the way you can see local traders and rice farmers working along the river as they have for generations.
6. Sapa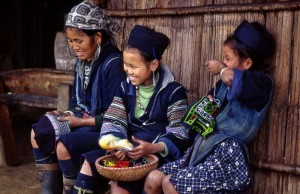 Located in the northwest region of Vietnam Sapa is a wonderful place for an authentic rural experience. This stunningly beautiful area with lush green valleys that are often shrouded in mist is home to hill tribes such as the Hmong, the Tay and the Muong. It's a great area for taking short treks to neighboring villages, visiting local markets and observing how some of the hill-tribe people live on a day-to-day basis.
7. Hue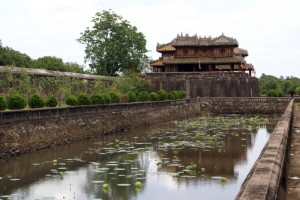 Hue is the former imperial capital of Vietnam and is yet another UNESCO World Heritage Site very worthy of checking out. It's mesmerizing tombs and mausoleums of the last emperors of Vietnam reveal fascinating insights into the lives of the imperial families and their subjects. The ancient citadel reflects the pomp and ceremony of the dynastic rulers as well as the scars of many years of turmoil, both ancient and modern. The citadel was badly damaged during the Tet Offensive of the Vietnam War, but quite a bit of restoration has occurred over the last 20 years.
8. Phu Quoc Island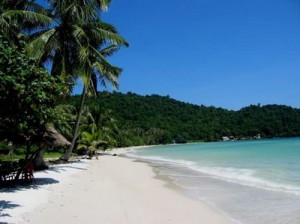 Located in the Gulf of Thailand near Cambodia this island has pristine tropical forests, gorgeous coral reefs and terrific beaches that haven't been overdeveloped, at least not yet! Close to 70% of the island is part of the protected Phu Quoc National Park which makes a great place for hiking, and there's great diving and snorkeling to be had in the clear blue-green waters.
9. Ho Chi Minh City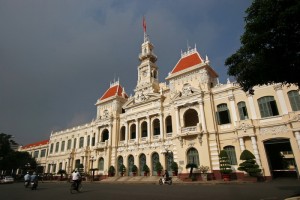 Ho Chi Minh City, a.k.a. Saigon, is the largest city in Vietnam, and is full of people constantly on the move. Although it's not as relaxed as its sibling-city Hanoi, it has more than enough interesting things to see and places to visit to warrant being on this Top 10 list. Along with the War Remnants Museum that pulls no punches there are also plenty of other great museums to visit. The Reunification Palace will remind you of all those classic photojournalism shots taken when the VC took over Saigon in 1975. There are numerous temples and pagodas to visit and plenty of other interesting things to see and do in the city as well.
10. Mui Ne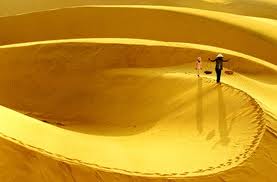 Perhaps the least visited place on this list, Mui Ne is a 10 mile long, beautiful stretch of white sand beach surrounded by groves of palm trees and miles of enormous red and golden sand dunes for which it is most famous. Having the lowest rainfall of all of Vietnam, it's a great place to visit even during the rainy season. And getting fairly consistent strong winds makes for bigger waves that draw in the surfers.
With so much to offer it's easy to see why Vietnam is showing up more and more on the well-traveled's radar screens. When are you going?
Travel well!