Towards the end of our time in Tanzania we set out with African Scenic Safaris for some more culturally oriented safari experiences. The abundant wildlife and natural surroundings of the Serengeti and the Ngorongoro Crater were of course incredible, but seeing how primitive tribes still live their day-to-day lives in Northern Tanzania was just as mind-boggling.
The first tribe we visited were the Hadzabe, aka the Hadza. The numbers vary a bit depending on where you look, but there seem to be about 1,000 Hadzabe left in the north-central Tanzania, living around Lake Eyasi in the central Rift Valley. About 300-400 of them still live as hunter-gatherers, more or less existing as they have for several thousand years. They have no chief or religion, and they remain relatively untouched by Western civilization, despite influences and pressures from missionaries, tourism and the Tanzanian government. They likewise don't keep track of birthdays or years. Modern day measurements of social structures and time and space don't really play a part in their lives, and given the way that they actually exist, literally off of the fat of the land, there really isn't a need for all of that.
To get a closer glimpse into the lives of some of the people in this nomadic tribe we arrived at one of their current camps at daybreak just before the morning hunt started. We didn't know it at the time, but we were in for an experience of a lifetime.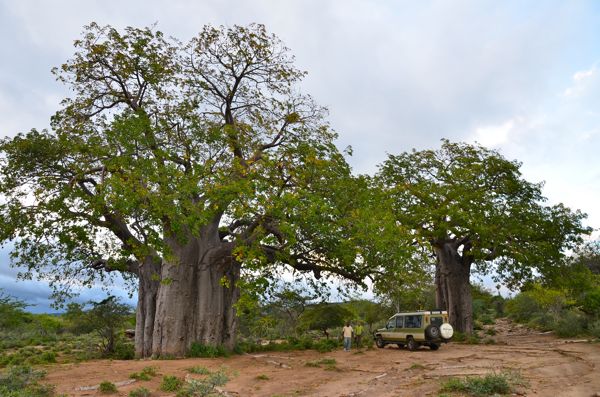 The Hadzabe camp was a very rugged hour and a half drive from our own tented camp in the Lake Eyasi region of Tanzania. Without a proper four wheel drive vehicle like this Toyota Land Cruiser it would literally be impossible to get there. Just getting there and back was a full blown adventure in and of itself.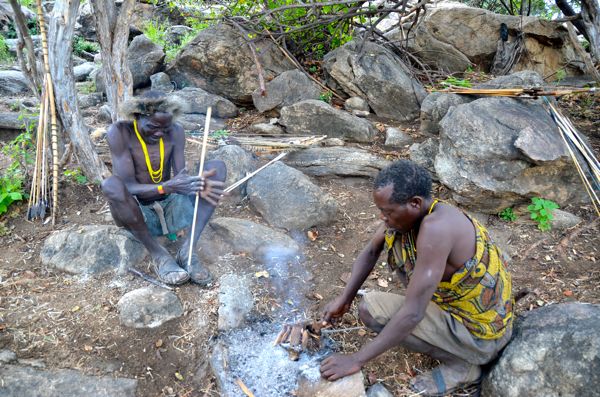 As we walked into the camp we could see that various small groups of the tribe were spread about the camp. These older men, who no longer go on the hunts, were hanging out together while making and servicing bows and arrows which are used by the younger men who do the actual hunting. These older men also build the axes and other tools that the tribe use in daily activities.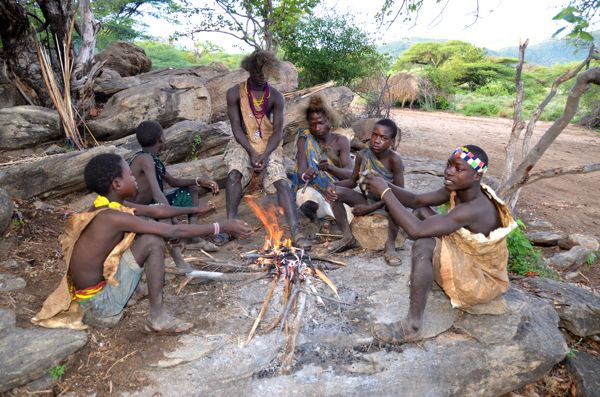 The younger men and older male children warm themselves around a fire just before the morning hunt begins.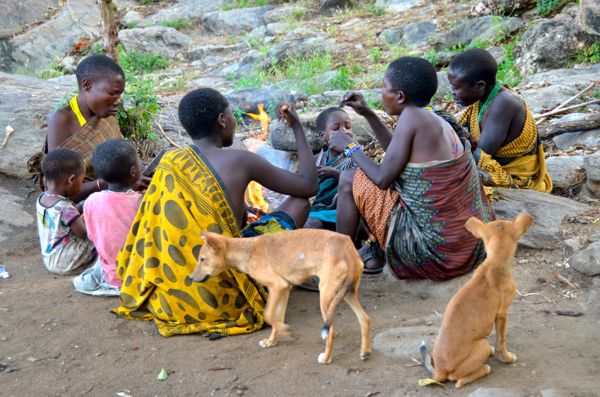 The women and small children congregated around their own separate fire. They were eating pieces of meat from a recently killed impala.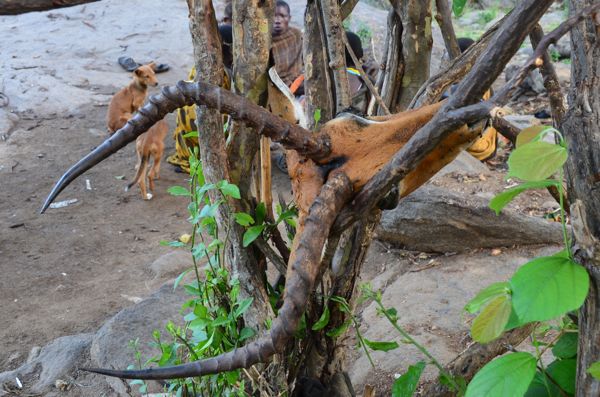 The head from the recently killed impala. No grocery stores for the Hadzabe. They literally eat what they kill.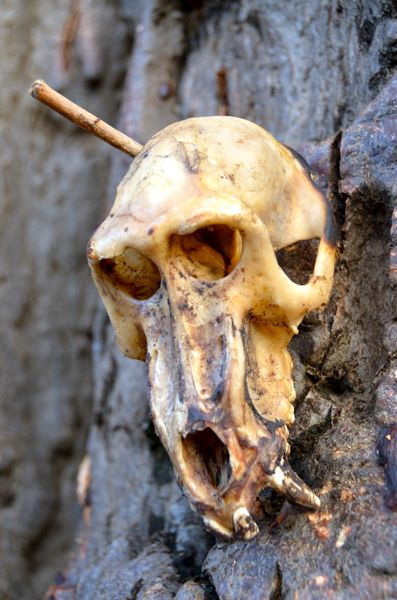 The Hadzabe love to eat baboons, and this is one of many baboon skulls that were pegged to a huge tree near the camp.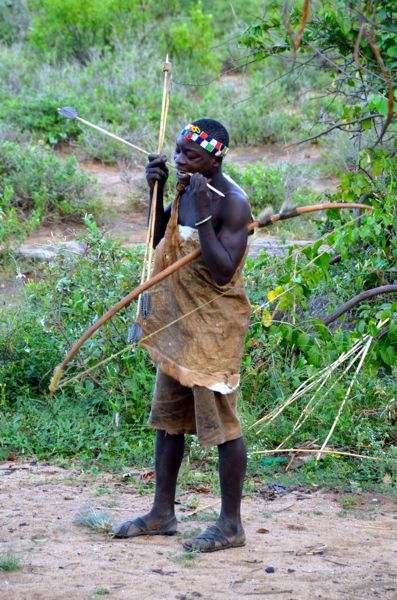 One of the hunters preparing an arrow just before taking off for the morning hunt.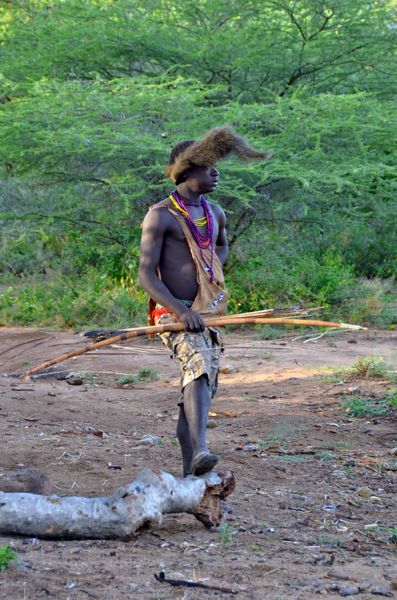 Another hunter readying himself for the morning hunt just before we got started.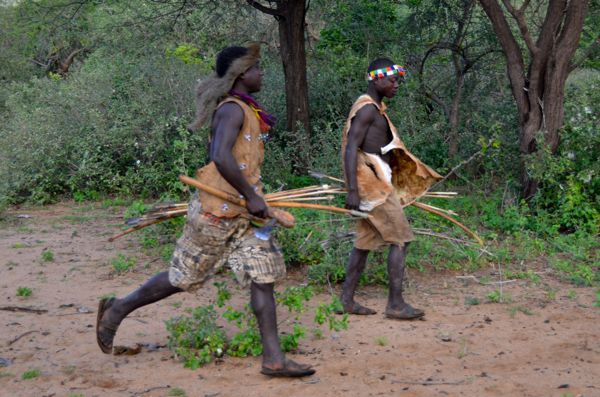 Once the hunt got started Shelley and I really struggled to keep up with them. The hunters had spotted some fresh impala tracks, and they were quite determined to find it.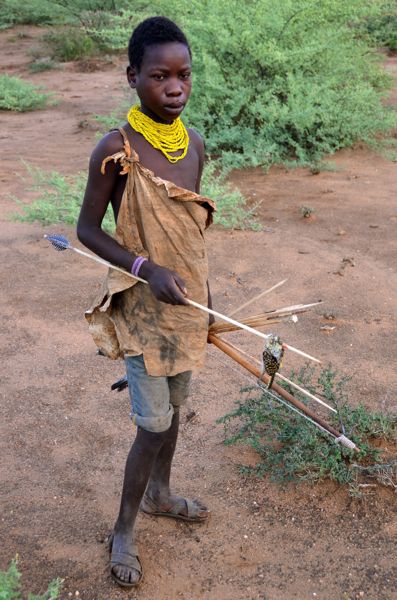 This young hunter got the first kill of the day, a bird he shot from a tree. That's not too big of a target, so I thought he must have pretty solid archery skills.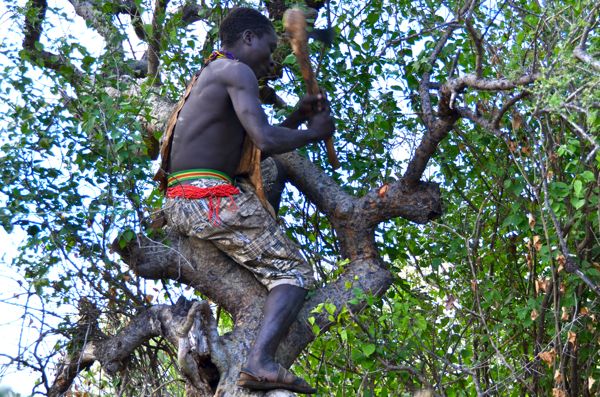 These hunters also looked for honey throughout the hunt. They LOVE honey like you wouldn't believe. They of course like the taste, but I am guessing they also crave the additional nutrition that they can't get from meats. They somehow knew which trees had a good chance of being filled with honey combs, and they would hack into them with their homemade axe.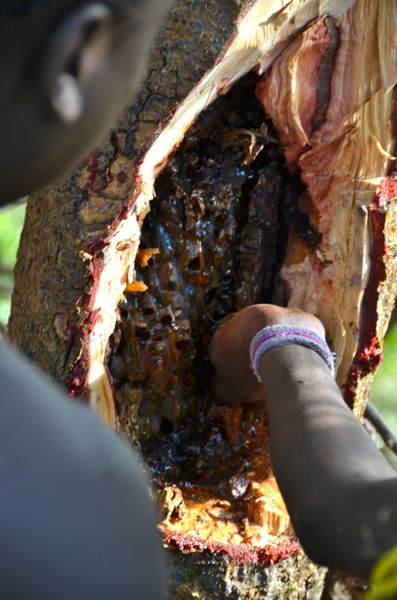 After hacking into a tree with honey in it they would quickly scoop it out with their hands and suck it down as fast as they could.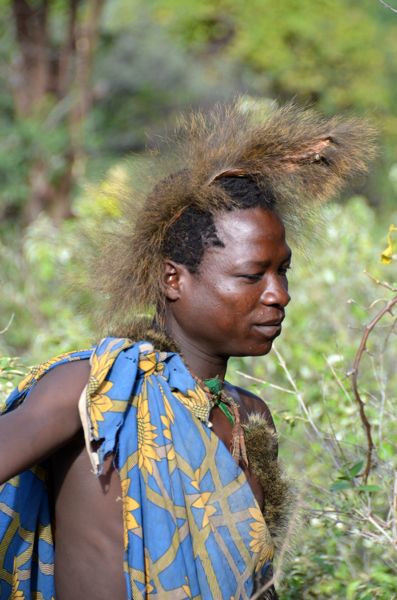 One of the hunters looking on as one of the other hunters attempts to hack into yet another tree suspected of having honey in it.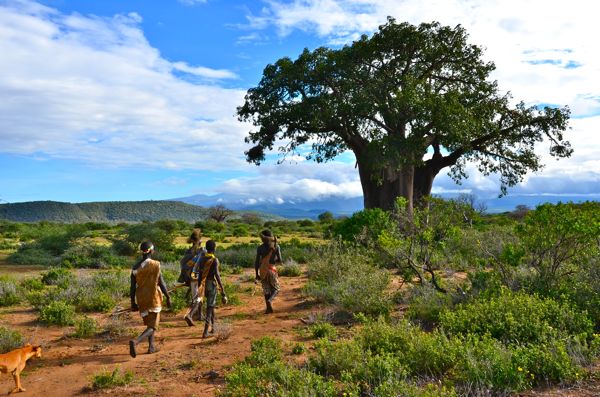 After hitting it pretty hard for a few hours and before the major heat set in the hunters head back to camp.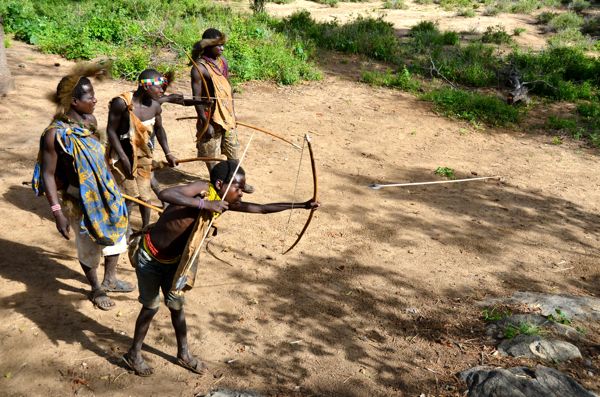 Not long after we got back to camp several of the hunters did some target practice with their bows and arrows. I shot a couple of the arrows myself, and I found it really difficult.
This ended up being one of the most unique and culturally enriching travel experiences of my entire life. And I must say that much of this was due to African Scenic. They did a fantastic job of getting us to and from all the various places that we visited and made sure our accommodations were proper as well. This can be a very difficult accomplishment in East Africa where infrastructure isn't always the best. Likewise, African Scenic does a great job of respecting the local cultures while also giving a lot back to the local communities. They are a top-notch tour company that I highly recommend, especially if you're seeking an East African experience even more off the beaten path than normal.
Travel well!