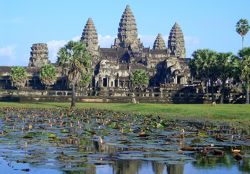 Ever have someone mention a travel destination that sounded really interesting, and you immediately wondered where in the world you could easily find some quick and dirty travel info on that place? Or perhaps you already have some places in mind that you would like to learn a little more about without having to go to the bookstore or potentially surf for hours just trying to find the basics in one easy-to-use site. Well in case you don't already know about it yet, I highly suggest you try using Wikitravel.org.
Like much more famous Wikipedia.com this is a web-based, ongoing, collaborative project where writers from all over the world supply free content for everyone. And as the name, Wikitravel, suggests, the content is all about travel. It has information on destinations scattered throughout the entire world, covering such things as what to do and see, transportation options, visa issues, places to stay, and restaurants. It also often supplies several useful links to other sites that have information specific to that place.
Just a few weeks ago I used Wikitravel to help me do some general research on a trip to Myanmar that my girlfriend and I are planning. I have spent quite a bit of time in Southeast Asia, but I haven't been to Myanmar yet. So I just went to the site, clicked on the link for Asia in the upper right hand corner, and then clicked on Myanmar which is located under the Southeast Asia section which is located under 'Regions'. It's fairly intuitively laid out and easy to navigate. Literally within minutes I had the basics that I needed to help me determine when and where we would go there, and I quickly purchased the incredibly inexpensive tickets to Yangon that I had just found with AirAisa before that deal disappeared. Afterwards I ordered a Lonely Planet guidebook to Myanmar
which will help me fill in the details later, and I am now looking forward to this really interesting part of our upcoming trip to Asia.
Now perhaps each destination covered in Wikitravel is not as detailed as what you might find in a typical guidebook, at least not yet, but hey, it is free, immediately accessible to you online, and possibly much more up-to-date than a guidebook on some things, even one that you just bought at the store! This is because updating content online is so much easier, faster and cheaper than updating an actual book. I am not at all belittling guidebooks. What I am saying here is that Wikitravel is a great tool to at the very least get you started in researching destinations that have piqued your interest. Once you have decided for sure where you believe you want to go then that is perhaps the time to make an investment in an actual book. And you still might want to annotate that guidebook with some of the information that you find in Wikitravel. That's what I do these days, and it seems to work great for me.
Another great website that is admittedly already much better known than Wikitravel but still doesn't get used as much as I believe it could be by independent travelers is Lonely Planet's Thorntree. If you have a very specific travel question about any destination then this site is just about the best place in cyberspace to start with. Independent travelers from all over the world use this site to search for information they are looking for as well as share information that they already have. To most efficiently look for information, click on the 'Advanced search' link in the upper right hand corner. Then use the drop-down menu to get to the region of the world you are interested in, and then type in the key words of the question that you have next to 'Search for'. Then click on the blue 'Go' button, and usually this will quickly get you the information you are looking for or at least get you pointed in the right direction. And if you can't find specifically what you are looking for by doing this then you can post a new question yourself. I have done this several times and have always gotten useful responses fairly quickly.
I used Thorntree just the other day when I was trying to find updated information on transportation options from Bangkok, Thailand to Siem Reap, Cambodia where the amazing temples of Angkor Wat are located. The flights for that route are still ridiculously expensive for the distance traveled, so I wanted to find out more information on the overland choices. I over-landed from Siem Reap to Bangkok about six years ago, and it was a long, long journey back then due to the overall less-than-great road conditions in Cambodia. That day I also happened to have some Buddha-belly going on which made it an even MORE UNPLEASANT trip. However I had recently heard somewhere that there is a new wonderful road from the border with Thailand to Siem Reap, but at the same time the road is so new that even the guidebooks don't have that information included in them yet. Heck, even a newspaper article on traveling to Siem Reap that I read that weekend didn't have the updated information! Well, by using Thorntree I quickly found out from travelers who have recently been there that this new road does in fact exist and is as wonderful as I'd thought I'd heard. These helpful fellow travelers also gave me all the details that I need to plan out our overland adventure. Life is good!
Anyone have any other sites similar to these that they highly recommend for travel research? If so, bring it on!
Travel well and save money!