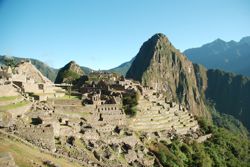 Having access to the right sources of information when you are planning any trip can of course make all the difference in the world. Word of mouth from someone you trust is always great to have, but typically we don't have enough of that kind of golden information to make a complete go of it. Of course choosing the right guidebook can be very helpful, but sometimes a great website that focuses on a particular region can be even more so. Because of this there are some really good sites out there that I try to keep in my digital information Rolodex, and one of these gems is AndeanTravelWeb.com.
I have visited Peru three times now, and I found this website extremely useful for all three trips. The 'About' page describes the site as being run by a non-profit organization located in Cusco which was the capital of the Inca Empire and is now a UNESCO World Heritage Site.  To me it seems that the people running this site genuinely love Peru, and they state:
"Our aim is to help promote Peru by providing good quality, independent and reliable travel information for visitors. We aim to highlight some of the main tourist attractions and help put you in touch with some of the best tour operators and hotels in Peru. It is only through promoting the more responsible companies and avoiding the worst ones that travelers and tourists alike can help contribute towards encouraging responsible tourism and respect for the local people and culture as well as protecting the environment."
Well, I completely agree with this statement from a philosophical standpoint, and because of my previous travel experiences in Peru I fully believe they have stayed true to their stated principles. I used various hotels that were recommended by this site, and I found every single one of them to be well run and of good value for what you pay. And whenever I travel, especially to third world countries, I do my best to use the services of the locals if at all possible, and this website makes it so easy to do. And there's loads of other information on useful travel practicalities specific to Peru as well.
On top of recommending appropriate travel services run by locals this organization gives you other tips and advice on things you can do to be helpful when you do come to visit. For instance they cover how you can stay with indigenous families in more remote villages, they promote alternative treks to the classic 4 day Inca Trail, and they give you the opportunity to provide aid in the form of second hand clothes, toys, school equipment and volunteer work to small communities in the Cusco region. I tip my hat to the people who run this site, and I hope that you will find it just as useful if you ever get the opportunity to travel to Peru or plan to do so again in the future.
And if you are seriously thinking of going to Peru sometime I also recommend the following books. I found them to be invaluable for not only planning purposes but also for learning about the culture before, during and after my trip.
Cuzco & the Inca Heartland, 4th: Tread Your Own Path (Footprint – Travel Guides)

– I used the Footprint guides for all of my trips to Peru, and I always found the information accurate and up to date.
Peru (Eyewitness Travel Guides)

– This is another highly used and highly recommended travel guide for Peru that I liked. It is especially well known for its pictures of all the beautiful places in such a diverse country.
The Conquest of the Incas

– A terrific, albeit somewhat sad, book about the conquest of the Inca Empire by the Spaniards in the 16th century. It is one of the best books I have ever read before a trip to give me a detailed historical and cultural background of a country, thereby making my visits to Peru much more meaningful.
The Machu Picchu Guidebook: A Self-Guided Tour

– I used this book when I took my parents and my brother to Peru, and it did a great job of enabling us to walk around the amazing ruins of Machu Picchu and gain a better understanding as to what we were actually seeing and experiencing. And to me it was just as good as, if not better than, having our own tour guide, because we could enjoy the ruins at our own pace.
Armed with the above travel tools you should easily be able to plan a trip to Peru and feel confident that you are well informed. I have had some of the best travel experiences of my life in Peru, so if you haven't gone there yet I hope it is one of your future destinations. And if any of you have any other ideas on this that you'd like to share please do!
Travel well and save money!