One of the best ways to experience another culture in a colorful and meaningful way is to attend a festival that is important to whichever country you are going to visit. This of course is true pretty much anywhere in the world, and Southeast Asia is no exception. Here are five memorable festivals that will let you see and experience things that are very important to their respective cultures while also bringing a smile to your face.
1. Songkran – Thailand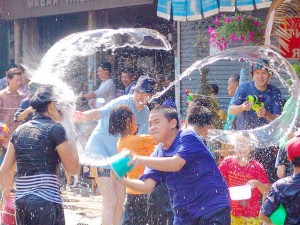 This traditional celebration of Thailand's lunar New Year takes place April 13-15. The more cultured aspects include Buddhist images being bathed and monks and elders receiving respectful sprinkles of water onto their hands from younger Thais. But the real action is made up of what is perhaps the world's largest water fight. Occurring during the hottest time of the year in Thailand, it's appropriate that copious amounts of water are thrown about, pretty much completely dousing anyone who ventures out in public. Basically, if you don't want to get wet, don't leave your room. But what fun would that be?
2. Phaung Daw Oo Pagoda Festival – Myanmar (Burma)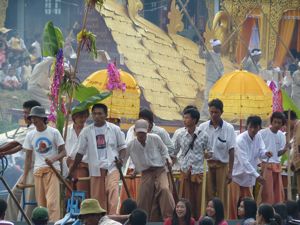 This two-week festival takes place each year some time in the September through November time frame. The moon's cycle as well as other factors make it different each year. Four ancient images of Buddha, covered in immense layers of gold leaf by devotees, are taken around the lake in an ornate barge via the power of hundreds of leg-rowers in long canoes in front. There are also rowing competitions, music, food and fireworks to be enjoyed with local families all around. And unlike so many other festivals in Southeast Asia this one has yet to be 'discovered' by large numbers of tourists, making it easier to have a more genuine cultural experience.
3. Bon Om Tuk – Cambodia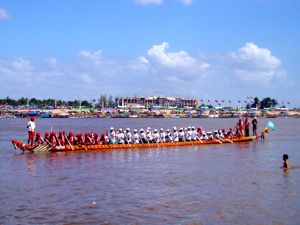 Also know as the Cambodian Water Festival, this event takes place some time in October/November. It is a celebration of an epic victory of a critical war battle that took place in the 12 century, and it is likewise the marking of the reversal of the Tonle Sap River where its waters start flowing back into the Mekong. Being an agrarian society, the flow of water is immensely important to Khmer culture. Colorfully decorated 'dragon' boats with 40 rowers each race in competitions on the Tonle Sap and Siem Reap Rivers in Phnom Penh and Siem Reap. There are also the obligatory food stands, fireworks, concerts and general mayhem with around two million people going to Phnom Pehn alone to take it all in.
4. Loi Krathong – Thailand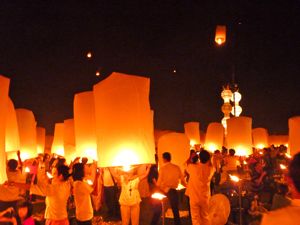 Again, depending on the cycles of the moon, this one usually takes place in November. It is believed to be a ceremony to honor the original Buddha with symbolic acts of letting go, a concept very important to Buddhist philosophy. Small lotus-shaped baskets made of banana leaves are filled with offerings like flowers, candles, coins and incense and are then floated away on nearby rivers, lakes and canals. And even more visually spectacular are the thousands, perhaps millions of hot-air, paper balloons that are launched into the sky at night. It's an incredibly impressive sight to behold.
5. That Luang Festival – Laos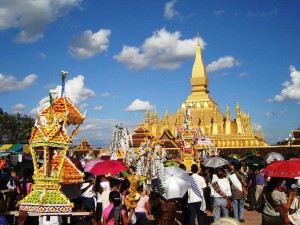 Usually occurring in early November, the That Luang Fesitval takes place in Vientiane, the capital of Laos. The first three days of this Theravada Buddhist celebration are made up of religious ceremonies and are followed by a week of nonstop festivities including a trade show, loads of carnival games, fireworks and musical and dramatic performances. Thousands of monks and laypeople from all over country participate.
Travel well!