When I started telling people several months ago that I was going to finally take a trip to El Salvador, almost everyone immediately asked me "Is it safe??". Much like Nicaragua, or perhaps even more so, most people seem to think of El Salvador as a war torn nation that is too dangerous to visit and doesn't have anything interesting to see or do. From my recent two-week trip there I'd say this widely held perception is completely off the mark.
First of all, I traveled there with my girlfriend, and although we took what we thought were appropriate precautions, just like you should do in any country including your own, we didn't have any problems with safety concerns whatsoever. And we covered several different regions of the country, half the time in our own rental car. And for what it's worth, the roads, especially the highways, were really good most of the time, which of course is NOT always the case in Latin America or the third world in general.
Second of all, for such a small country (the smallest in Central America) it has a wide variety of fascinating things to experience. Just to start with there's Spanish Colonial Suchitoto, various coffee regions, colorful arts, scenic lakes, birding, beautiful beaches on the Pacific with some of the best surfing in the world, great food, and enormous volcanoes. And to top it off, the country is full of some of the nicest people you will ever meet in the world which made our stay there all the more pleasant.
All throughout our travels in this wonderful little country I took quite a few photos, and this post will cover our time spent in San Salvador, the capital and heart of the country. It's the second biggest city in Central American and not known at all as a place to visit from what I understand. But in my opinion it is definitely worth checking out for at least a day or two. It of course has its share of historical sites, but we were also very pleasantly surprised by a few other things during our time there.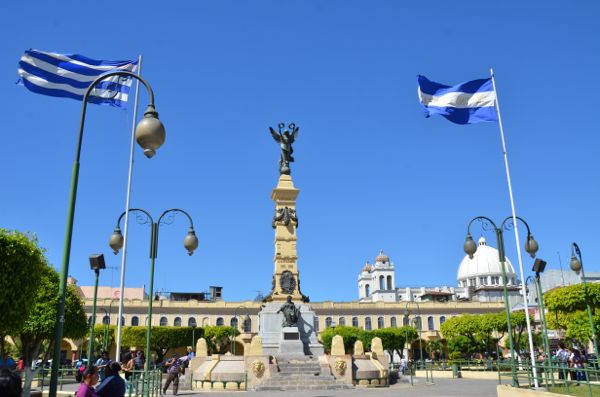 Monument to heros of 1811 when El Salvador declared independence. In Liberty Park, the original city center, with the Metropolitan Cathedral in the background.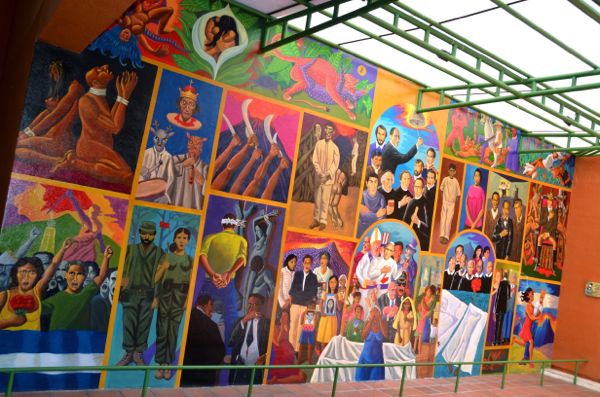 Colorful mural at Museo Nacional de Antropologia depicting the history of El Salvador. Murals are VERY popular in El Salvador. We saw them in cities and towns all over the country.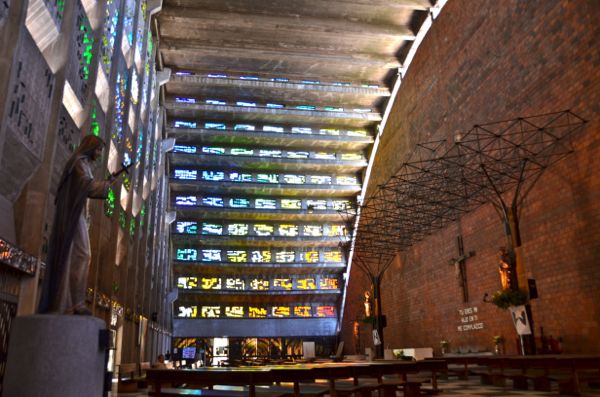 From the outside of this church (El Rosario) you'd never be able to guess how beautiful and interesting it is on the inside. Comprised of some of the most non-traditional architecture I've ever seen for a church, I'm totally amazed that the architect, Ruben Martinez, was able to pull it off in a very conservative country, especially at that time in 1965.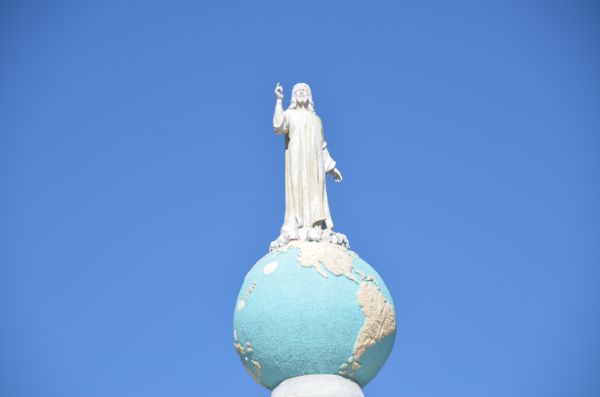 The top of Monument to the Divine Savior of the World, one of the most important landmarks in the city and a symbol recognized by El Salvadorans all over the world.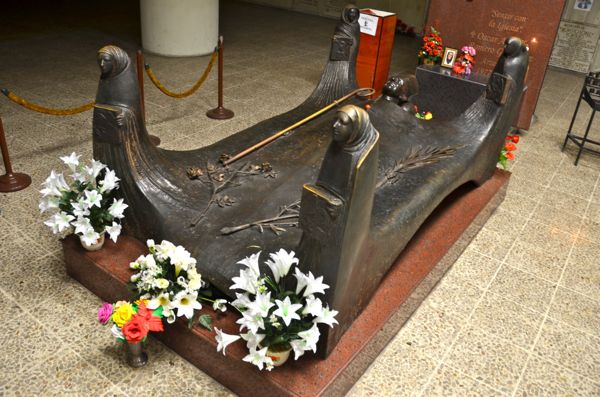 The crypt where Archbishop Oscar Romero was buried at the Metropolitan Cathedral. Romero was assassinated in 1980 by government forces due to his vocal, left-leaning teachings of Liberation Theology.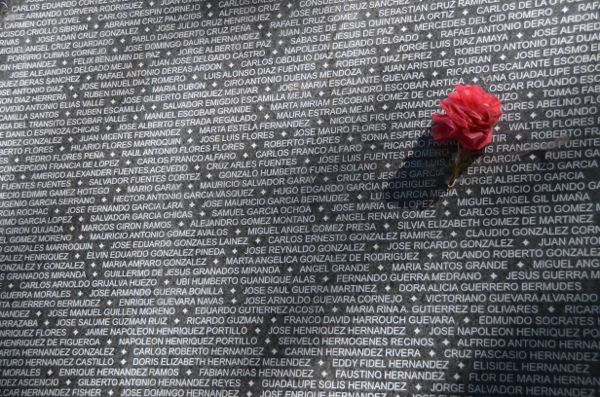 A memorial in Parque Cuscatlan that has the names of 25,000 people who died and disappeared during the 12 year civil war that ended in 1992.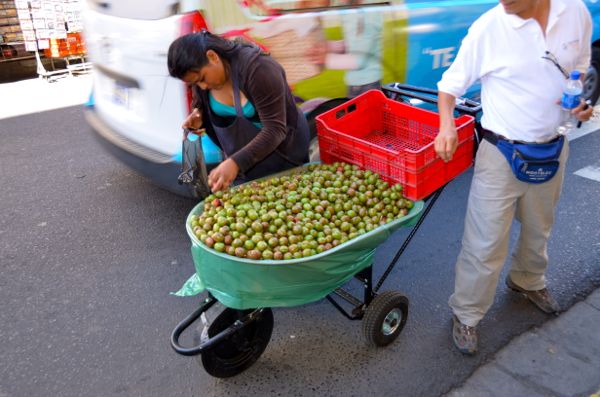 One of the many street vendors we saw  in a market area we visited. Without a doubt most people in El Salvador have to work very hard for not all that much money.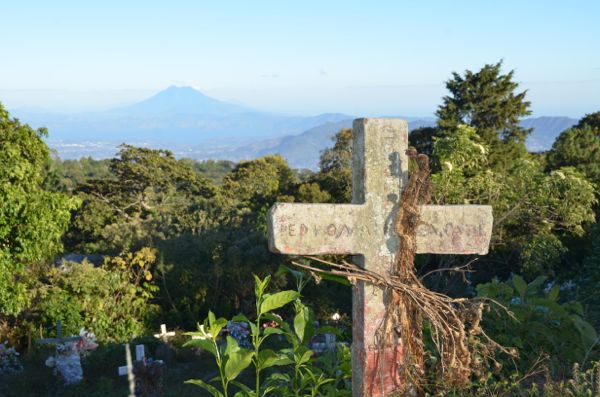 After visiting a park on the outskirts of town we stopped by this little cemetery on the way back to our hotel. In the background you can see the heart of the city in the shadow of Quetzaltepeque volcano.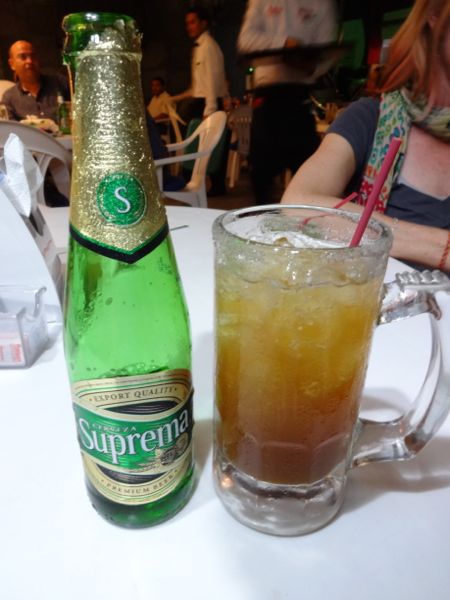 Micheladas are pretty popular in El Salvador. Shelley wasn't too crazy about them, but I found them quite refreshing, especially after a long day of walking around in the heat.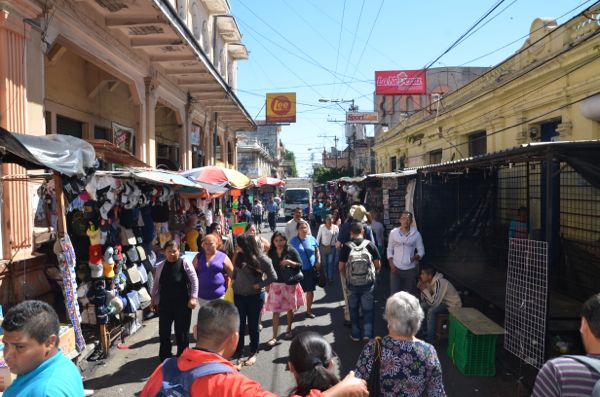 Locals strolling through an outdoor market area.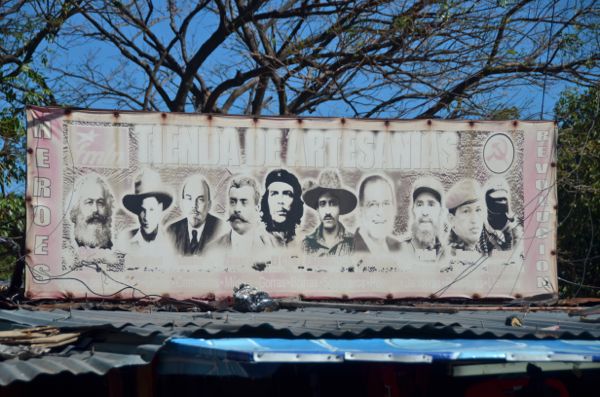 Interesting sign with all the usual leftist social icons. Politically-related signs for both the left and the right are sprinkled throughout the country.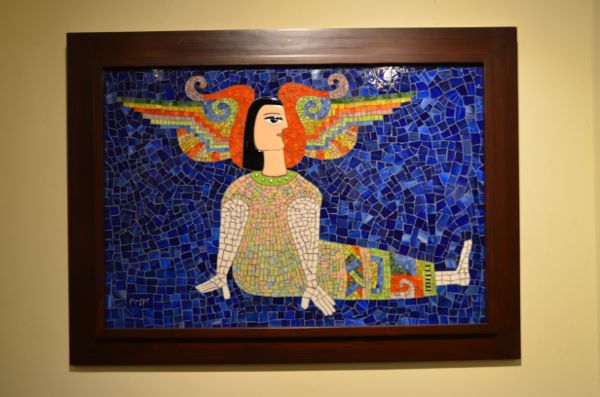 A stunning piece for sale at El Arbol de Dios, the store that sells pieces created by Fernando Llort, one of El Salvador's most famous artists.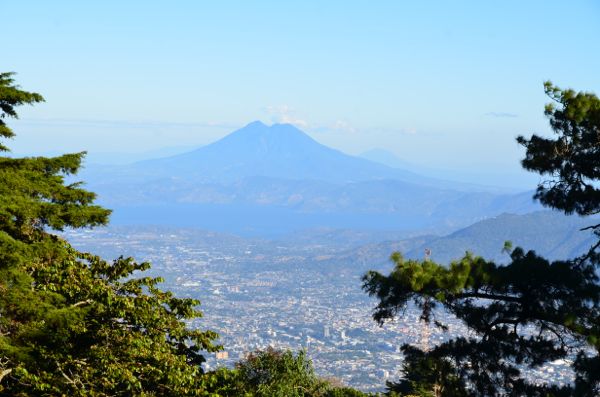 Another view of the heart of San Salvador with Quetzaltepeque volcano in the background.
Well that's a wrap for the vibrant city of San Salvador. In my next photo essay I'll cover the Spanish Colonial town of Suchitoto and some places nearby. Until then…
Travel well!