Going to markets is one of the most enjoyable things to do while on the road, especially in developing countries. They are great for people watching, trying different local cuisines, finding little treasures to take back home, and seeing how the locals live on a day-to-day basis. Southeast Asia is loaded with some terrific markets, and below are the Top 5 in the region in my book.
1. Chatuchak Weekend Market – Bangkok, Thailand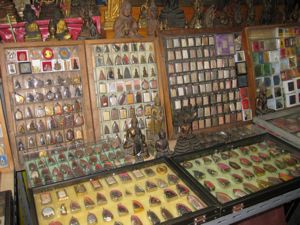 This is the Mother Of All Markets in the region, one of the best in the entire world, and no trip to Bangkok would be truly complete without seeing it. This thing is gigantic, and you can easily get lost in the labyrinth of stalls. Just about anything can be found there – household items, antiques, jewelry, Thai handicrafts, all kinds of art, live animals, you name it. Luckily it is relatively well organized in that it is broken down into different sections that focus on certain kinds of items. Come early to beat the massive crowds and the heat.
2. Chiang Mai Night Bazaar – Chiang Mai, Thailand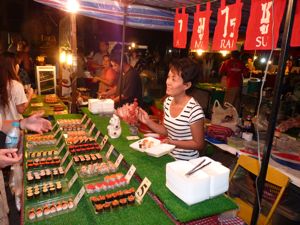 Unlike Chatuchak which is enclosed in one giant piece of property, the Chiang Mai Night Bazaar sprawls itself throughout several streets in the central part of the city. It's not as voluminous as Chatuchak, but it still has plenty of interesting handicrafts, clothing items, art and other items that tickle the fancies of locals and tourists alike. Not being as jam-packed and hustle bustle as Chatuchak, it's a little easier for families to enjoy as well.
3. Luang Prabang Night Market – Luang Prabang, Laos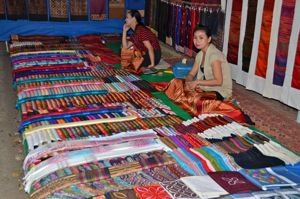 Luang Prabang is one of my most favorite little cities in the world, and its night market helps provide just some of its charm. Like the market in Chiang Mai this one likewise opens up onto the streets where it is easy to walk around and browse through all the stalls. This market is even more tourist-orineted than the previous two markets, but don't let that deter you at all. There are beautiful and fun souvenirs and handicrafts from all over the country here, and there are some from Thailand as well. The people working the stands are not pushy at all, so bargaining is always easy and pleasant.
4. Angkor Night Market – Siem Reap, Cambodia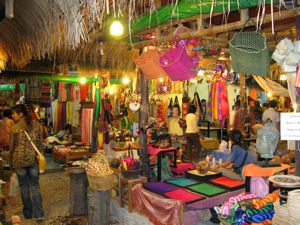 This is another great market for shopping for well-priced trinkets and souvenirs. There are plenty of items made of silk, paintings, statues, carvings and the like. The market is deceptively large, and there are nearby more recently opened night markets that provide yet more shopping opportunities. And like the markets in Thailand mentioned above, there are plenty of places to get terrific, inexpensive massages as well. After a full day of exploring the Temples of Angkor a nice foot massage can't be beat.
5. Ubud Art Market – Ubud, Bali, Indonesia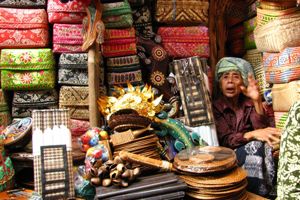 Bali is one of the most artistically inclined places I've ever been. The people there seem to have a natural talent for creating beauty even in the most mundane things. So it's no surprise that there are lots of talented artisans available to sell their wares. There are individual shops selling most of these items pretty much all over the island, but probably the best place to more or less find it all in a concentrated place is at the Art Market in the city of Ubud which is the cultural center of the island.
Travel Well!