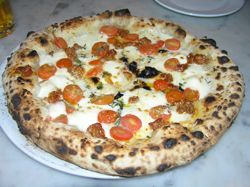 As I mentioned in my last post I am currently having a great time in New York City, fully enjoying what it has to offer, without burning excessive cash and going into massive debt. I talked about how much doing a home exchange has made this inexpensive, yet wonderful trip possible by saving us from having to pay anything for lodging and by not having to go out to eat for every single meal. But there are a couple of other things we have done to make this all financially feasible.
First of all I purchased a book titled "Frommer's NYC Free & Dirt Cheap". I have purchased my share of books to help me out with trips all over the world, but this one just might be the best bang for the buck I have ever come across. Basically it delivers on exactly what the title promises. With the ever escalating costs of museum entrance fees in this town (granted, they are some of the best in the world) the book literally more than paid for itself in one night by enlightening us about and guiding us to the Friday evening free entry into the Museum of Modern Art which also just so happened to be showing a special exhibit on Tim Burton which was totally awesome. It normally costs $20 per person to get into this museum, and we did it for $0. Sweet!
And this book covers much, much more than the free entry time for the multiple museums in this town. It also covers free or almost free concerts, plays and movies. Likewise it goes into great detail about great deals on shopping, restaurants, happy hours, classes etc. I bet there are some long-time New Yorkers who could even learn more than a thing or two from this book on how to better experience and enjoy NYC on a non-Wall Street budget.
One other resource that has helped us get the most out of our stay here on a budget is the website Restaurant.com. If you haven't already used this site in the past then I highly recommend you check it out. On this website you can purchase gift certificates to over 13,000 restaurants all over the United States at a discount. The most typical purchase is $10 for a $25 gift certificate, but there are sometimes other amounts too. And often there are discount codes that you can use to get you up to an 80% discount on this already great purchase price. So basically you would be paying $2 for a $25 gift certificate. I believe there are different ways to get to know about these discount codes, but I get them via CouponMom.com. You can either just occasionally check out that site, or you can sign up for their free membership which will get you on their email list for the latest deals they have found which oftentimes includes discounts on Restaurant.com. We have eaten at some really great restaurants here, as well as in other cities, for very reasonable prices by using these certificates. In fact we ate a delicious meal at an Italian restaurant just tonight!
If you know of any other great ways to help do NYC on the cheap please let me know.
Travel well and travel often!