Our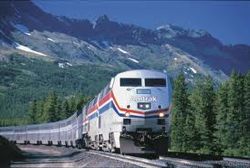 upcoming trip to Asia this fall has me looking into many different methods of transportation. Since we will be visiting several countries over 2-3 months, many of which are fairly far apart, we will definitely be taking a fair number of flights. However, it's not always possible to fly, and even when flights are available they are not always desirable for various reasons.
One of the other modes of transportation that we definitely plan on using at least to some degree on our trip is train travel. Unfortunately, in my humble opinion, this is often an overlooked form of travel, especially for Americans like me who live in such an automobile and airplane-focused travel culture.
Here are just some of the potential reasons to choose traveling by train over traveling by plane:
1) For shorter routes a train can oftentimes be just as fast or faster than a plane after you add in time for traveling to and from airports and the fact that you must get to the airport so early for check-ins.
2) It is often less expensive than a plane, especially when you add the potential costs of getting to and from the airport with cabs or trains or whatever, all the additional fees airlines are trying to stick us with these days (eg. baggage check-in fees, 'convenience' fees, etc.), over-priced airport food and adult beverages, and airport departure taxes.
3) An overnight train also can save the financial expense of a night in a hotel as well as the time 'expense' of checking in and out of a hotel.
4) Train travel is much easier on the environment. Traveling by plane emits up to ten times as much CO2 into the air per passenger mile as traveling by train.
5) Depending on the particular trip, you can often see beautiful scenery along the way that you would have no chance of seeing at 35,000 feet.
6) Traveling on a train gives you a greater opportunity to meet and mix with the locals. For instance I've taken trains in India where I was treated just like family by some of the people in my passenger car.
With all of these potential reasons in mind we will for sure take trains in India, and we will quite possibly take some of them in Myanmar and/or Thailand as well. And as I have done many times in the past I used Seat61.com to help me in my train travel research.
Seat61 is the premier, go-to website for information on train travel all over the world. It was started in 2001 and is still run today by an Englishman and career railwayman named Mark Smith. In his 'About Me' page he describes how it was always so difficult for him to find useful information on rail travel. As he says, even the train operators themselves are of little or no help. So he basically took something he loved and knew pretty well, train travel, and started building a site that could help anyone find information on traveling by train in just about any country in the world that actually has passenger railway service.
He likewise says the second goal of his site is to inspire people to travel in more rewarding ways than the typical airplane flight. (BTW, he covers a fair amount of information on ferries as well.) I guess to at least some degree Mark is kind of an inspiration for me on yet another level, because I am trying to do similar kinds of things with TheBestTravelWebsites.
And Mark's goals of providing useful information and inspiration for train travel are, in my opinion, achieved with flying colors with his labor of love, Seat61. Take a quick look at the site, and you will immediately see on the left hand side a list of links for just about every country in the world. Just click on whichever country you are interest in, and you will immediately see an enormous amount of helpful information. There are links to other train-related websites for that specific country and specific regions of that country, lots of great pointers and suggestions for various routes, information on how to best buy tickets, information on what the different journeys are like including some pictures along the way, an FAQ section, and all kinds of other useful information. Try it out for yourself and get inspired. I know I did!
May your travels go well!