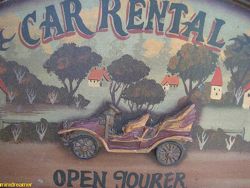 Car rental insurance seems to be one of the least understood subjects for travelers. It may not be as 'sexy' as finding a great airfare or getting a great deal on a hotel, but depending on how you travel it could possibly end up being much, much more important to you. Because if you do rent a car and are not properly insured you are taking on some massive financial risks – we all know it can be very expensive to repair or replace automobiles if they are damaged or stolen. And since car rental companies like to sell FUD (fear, uncertainty, and doubt) the best they can to try to get you to pay for overpriced, extremely high margin, insurance coverage, you really should understand the different insurance options available to you before you actually walk into that office to sign the paperwork in order to get the keys to your car.
In the Car Rental section of my website I discuss the different kinds of rental car insurance coverages to think about and some of the different ways to actually obtain them. I won't reiterate all the details here, but in a nutshell you must think about coverage for both collision and liability. If you have collision via your own car insurance then this will often transfer to cars that you rent, but you should always call to verify. Loss of use damages (basically lost car rental income) comes under the umbrella of collision, but even if collision on your car insurance policy transfers it may very well not cover loss of use – again, always call to verify. Liability coverage may also transfer from your auto insurance, but once again, always call to verify.
If your auto insurance collision coverage will not transfer or if you don't own a car or if loss of use is not covered by your car's collision coverage, then you still don't have to buy the rental car company's overpriced collision insurance. If you use certain credit cards (not all of them though!) to reserve and pay for the rental then you are already covered. For instance my basic American Express card covers up to 30 consecutive days of car rental, up to $50K in collision damages, and loss of use. And if I sign up for Amex's Premium Car Rental Protection my coverage gets even better. There are no sign up fees for this, and for only $24.95 per rental I get up to 42 days of consecutive coverage, up to $100K in coverage for damage, theft or loss. Likewise, my Amex coverage becomes my primary coverage instead of my own car's insurance, a wider array of cars can be covered (for example luxury cars), and there is no deductable if I have to make a claim. Similar coverage purchased from a car rental company would most likely cost you much more money, especially if you plan to rent several days or even weeks at a time.
Unfortunately liability (damage to someone else's car or property and personal injuries that you cause) is not covered by Amex. So if you don't own a car or if your car's insurance won't transfer then you will most likely have to suck it up and pay the going rate with the car rental company's liability insurance which is sold separately from collision. The only way around this that I know of is to buy a non owners car insurance policy, but this would make financial sense only if you were planning on renting cars fairly often.
Do any of you know of another way to get liability coverage for rental cars or any other ways to save money on car rental insurance in general? If so, please let us know!
Travel well and save money!