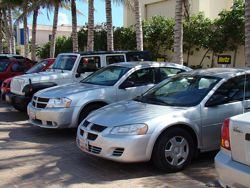 When people are planning a trip they usually focus mostly on trying to save money on their airline tickets and accommodations. Without a doubt these definitely are important, but if you also need a car rental it is yet another opportunity to save money on your travel plans. And the more money you save on the basic necessities of your trip the more money you will have to spend on the really fun stuff while you are away.
The most important thing to remember is to reserve a car as early as possible, especially if you will be traveling during high season. Many sites will let you reserve a car with a credit card without penalty for cancelation as long as you cancel the reservation within the guidelines that they give you. So why not nail down what appears to be a great rate way ahead of time knowing that you can cancel it later if you find a better deal or even if you need to change the travel dates or cancel the trip altogether. So please don't procrastinate on this. It's really a no-brainer.
Also know that weekend rates, which often start at noon on Thursdays, are often significantly less expensive than weekday rates. And weekly rates are often a much better value than daily rates. Whenever possible try to move your travel schedule around to best take advantage of these timing factors.
Here are a few other things to consider. Make sure to compare prices for all types/sizes of cars – the smallest ones are not always the least expensive. If you don't have to pick up the car within an airport always check for prices for rentals from locations outside the airport. They are almost always less expensive due to additional airport taxes and fees. And when getting quotes from different websites always make sure that all the taxes and fees are included in the prices they give you. Some sites are better at being more upfront about this than others.
As far as which sites to actually use for your searches KAYAK.com is a great site to start with.  The layout of the quotes is easy to understand, and the quoted prices always include any additional taxes and fees. Another awesome site for getting car rental quotes is CarRentals.com
. They work directly with car rental suppliers thereby cutting out middlemen and often enabling them to quote you the best car rental rates available anywhere.
And if you know for sure that you won't need to change your car rental dates or cancel your trip altogether then consider using Hotwire.com
. With Hotwire you have to pay for your car rental up front, and you cannot later make changes or get a refund. Likewise you won't know which car company your car will come from, although they only rent via Alamo, Avis, Budget, Enterprise, Europcar (international only), Hertz, and National. If these terms work for you though then definitely consider booking your car rental with them.
Following these guidelines and using these recommended websites should easily help you save money on your next car rental. For additional information on how to make sure you get the best deal you can on your car rentals check out Tips For Car Rentals. And for additional websites to use to help you find a great deal on a car rental click here.
Travel well and travel often!