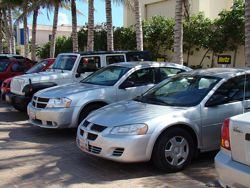 Last week I talked about how to find a great deal on a car rental, and this week I want to talk about insurance coverage for your car rental. As many of you know some rental car agents really try to pressure you to buy their insurance policies when you pick up your car, almost to the point of boiler room tactics at times. Of course they don't solely have your best interests in mind, because their insurance policies are almost always overpriced and I imagine at least some of these agents get some sort of commission for selling them as well.
But just because the rental car agent might be trying to sell you an overpriced insurance policy doesn't mean that you should blow off the idea of making sure you do in fact have appropriate coverage. Because if your car is damaged somehow or another and you don't have appropriate coverage then that great deal you found on a car rental could easily turn into an expensive nightmare.
So what to do? Well, first of all, keep in mind that you basically need to keep two kinds of coverages in mind – collision and liability. Collision coverage is for any damages to the rental car due to things such as dents, scratches and theft. Liability coverage is for damages to someone else's car or property and for any personal injuries that you cause and is completely separate from collision coverage. With these coverage needs in mind you then need to determine what coverage, if any, you already have via the insurance you have on the car that you own and/or via the credit card that you will use to actually pay for the car rental itself.
As for coverage from you own car's insurance policy, if you have collision coverage it will often transfer to a rental car, but you really need to call your insurance company to make sure. And if collision coverage does transfer also find out the specifics such as coverage amounts, whether loss of use is included, and if there are any foreign countries not included if you are traveling overseas. If you have liability coverage on your cars' insurance policy then it also might transfer to a rental – again you should call to verify what is and what is not covered.
As for potential coverage from your credit card you use for the car rental, often times they provide collision coverage for whatever your own cars' insurance doesn't provide. Usually American Express, Visa, Mastercard and Diners Club offer collision coverage, but again you should always call to verify the specifics. Unfortunately credit cards do not appear to ever provide any liability coverage.
Once you have determined what is and what is not already covered by your cars' insurance and your credit card you can then make an informed decision. If you are already sufficiently covered then of course just deny any insurance offered by the car rental company. Period, the end. If you think you need to purchase additional coverage then you have a few options.
If you need to purchase collision coverage then you can almost always get it cheaper from a third party. For instance you could purchase Premium Car Rental Protection from American Express if you have their card or you could consider purchasing travel insurance that includes car rental coverage through a travel insurance comparison site such as SquareMouth.com. Beware though that these third party policies don't cover loss of use. If you want loss of use coverage then you will either have to pay the going rate from the car rental company, or you will need to find and use a credit card that provides this coverage.
If think you need to buy liability coverage then you will most likely need to buy it from the rental car company. The only other option would be to buy a non-owners car insurance policy that covers liability for whenever you rent a vehicle. However, this would only make financial sense if you rent cars fairly often.
If you have any other ideas or suggestions on making sure you have the right amount of insurance for car rentals please leave comment.
Travel well and travel often!