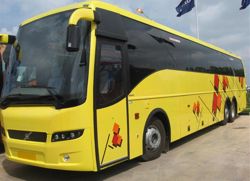 Now I know that traveling by bus is not considered very fashionable, especially in the United States, but if you are not already doing so you might consider it for at least some of your transportation needs, especially when traveling overseas where bus travel is much more prevalent. No doubt some bus journeys can be pretty rough, making the potential cost savings not worth it to some people. We all have our limits. But in case you didn't already know there really are some pretty pleasant bus experiences to be had, you just have to do the right research to know what can be expected ahead of time.
Probably the best place to find out more information about which bus routes are available all over the world is The Bus Station. Much like what the founder of Seat61.com has done for train travel information, the founder of this site, Steve Annells, has put together a massive list of sources for bus travel for just about any geography you can think of. Some countries seem to have a better list of resources than others, but no other site in the world seems to come even close to being as complete as this one. You can easily find information about specific bus companies' route times and costs.
And for inquiries about comfort level I have found that a really good place to inquire about a particular bus route is Lonely Planet's Thorntree. First do a few searches about whichever bus route you are thinking about in the appropriate geographic section. If you don't find the information you are looking for then just post a question yourself, and you will almost always get several responses fairly quickly. At least that has been my experience.
I did this fairly recently while looking into potential bus routes for our upcoming trip to Asia (we leave this Saturday – yeah!!!), and I easily found the information I was looking for. At first we were considering traveling a leg or two in Myanmar by bus, but pretty much everyone on Thorntree, even some of the seemingly hard-core travelers, said that any substantial bus ride in the country is an unmistakably horrible experience due to the awful road conditions. So we'll happily cough up the money for flights there. On the other hand, I found out that the road between the Thai border and Siem Reap, Cambodia is no longer the hideously rough dirt road that it was when I was on it about five years ago, and it is now actually a brand new, quite comfortable, paved highway, making the bus trip a pleasant ride through the countryside. So instead of paying for the monopolistic overpriced air tickets from Bangkok to Siem Reap, we'll be over-landing instead.
Of course just because a road is nice doesn't mean that the bus itself will be nice. Again, you can easily research specific bus lines and the quality of service they provide. I once spent about four months traveling around India, and I took my fair share of bus rides, usually when a train wasn't available. Some of the rides were admittedly less than ideal, but some were actually quite nice with plush seats and plenty of air-conditioning. One bus in particular that I remember was the nicest bus I had ever been on in the world. It was a brand new Volvo with captain's chairs for every passenger. After some of the chicken buses I had already experienced in that country I couldn't believe it!
And this goes for bus travel in the U.S. as well. I know Greyhound has a pretty bad reputation with a lot of people, but they really do seem to be improving their services lately. Due to some family logistical needs a month or two ago, I ended up taking a bus from Fort Worth to Austin. The bus was pretty new and actually quite comfortable. Likewise it was definitely a lot less expensive and less hassle than flying. And I saw on Greyhound's website that they are starting to add free Wi-Fi to some routes, which to me is a huge selling point. So the bottom line is that I think Greyhound is definitely worth considering when traveling within the U.S.
Do any of you have any bus travel information or experiences you would like to share?