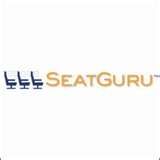 Have you had one of those awful travel experiences where you were stuck in a terrible seat for a flight? If so, perhaps you were right next to a restroom or right beside one of the galleys where the flight attendants were constantly working. Or maybe you had reduced legroom or a seat that had limited ability to recline. Or if you REALLY got hosed you might have had two or more of these and other less than ideal conditions.
Well, if you haven't done so already you really need to start using SeatGuru.com to help you prevent these kinds of experiences and get the best seat you possibly can. SeatGuru has been rated as a top travel website for many years now and for good reason. It has over 700 seat maps of different flights for airlines all over the world, and it rates and provides individual seat information by using feedback from over 25,000 flier reviews. All you have to do is enter your airline and flight number, and you instantly see a seat map for that particular flight. All the seats are color-coded to indicate in general how good or bad each seat is, and you can hover your cursor over each seat to find out detailed (sometimes very detailed) information about seats in particular.
As you can imagine this is incredibly useful information, especially for longer flights. Just recently our flights from Austin to Bangkok were revised by United, and in the process our seats assignments got changed as well. Using the new flight information I used SeatGuru to find out what our new seats looked like. Well, it wasn't pretty! Besides having us not sitting together, they also had me assigned in some of the absolute worst seats for the three different flights we are scheduled to be on to get to our final destination. Basically they had me by galleys and by restrooms, and in seats that would barely recline.
I immediately got online and changed my seats while also looking at the SeatGuru plane maps for those flights. All the absolute best seats were already taken, but I was able to get us sitting together again for all the flights while also being in decent seats that won't make us feel like we've been through a war after 24 hours of being in transit.
To help you get started SeatGuru also has a really good Guide to Booking the Best Airline Seats. It talks about the different things to look for in a good seat, and it likewise gives you some great strategies for making sure you increase your odds of success. Probably the most important tip is to get started as soon as you possibly can. This is especially true if you are flying coach where having a bad seat can be even more painful. And because the planes are much fuller these days due to reductions in the numbers of flights by the airlines and because more and more people are using SeatGuru to help them get better seats before they are gone, it is now even more important for you to start using SeatGuru as early as you can in the seat selection process. Otherwise you are basically playing Russian roulette with your travel comfort.
Have any of you successfully used SeatGuru before?