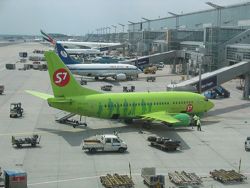 A few people have approached me with questions and ideas about my recent frequent flyer miles posts, so I want to cover some of these little nuggets today. Because, again, if you play the game right you really can save a serious amount of money on your travels and have fun sticking it to the airlines and credit card companies in the process. What could be better than that? By the way, I just checked my United Airlines account this morning and discovered that I received my 50,000 bonus miles a few days ago for merely making a small first time purchase on my newly acquired (and soon to be canceled) Chase United Visa card, cha-ching! I love the game, and I love to win.
One issue that has come up has to do with which airlines' points programs are the easiest or the hardest to work with to actually redeem your miles. This is great question, because if there are more than one or two airlines that would work best for your particular travel needs, then you may as well focus on getting points with the one that makes it the most convenient to actually cash in on a free ticket or upgrade.
The Wall Street Journal recently came out with an article that discusses which airlines are the best and worst for being able to redeem miles. Basically it went over the findings from a study conducted by a consulting firm called IdeaWorks which made over 6,000 booking queries to the websites of 22 different frequent flyer programs from all over the world to help them come to their conclusions. They said the airlines in general are enabling more and more frequent flyer points to be accrued, mostly through third parties like credit card companies, but the general trend is for it to become more difficult to actually redeem those miles. Although I definitely concur with this unpleasant trend, I still say if you do things right there are plenty of free seats and upgrades out there for the taking. And part of doing things right is being armed with the right information.
The study found that for ease of getting a free ticket Southwest Airlines was by far the best in the US market, being able to deliver a free ticket a whopping 99.3% of the time. Too bad they don't have international flights! Other US airlines came in this descending order: Alaska Airlines (75%), Continental (71.4%), United (68.6%), American (57.9%), Delta (12.9%), and US Airways (10.7%) – yikes! And here are the findings for some of the airlines based outside of the US: Air Canada (93.6%), Lufthansa (85.7%), Singapore (77.1%), Qantas (72.9%), Cathay Pacific (67.1%), British Airways (65%), and Air France (56.4%). As I've mentioned before definitely check to see which airlines are affiliated with each other, since you can often use accrued miles on a partner airline. Even if your airline of choice is weak in the redemption department, they may be partnered with an overseas airline that could save the day for you, especially for those oftentimes really expensive international tickets. And another point that the WSJ article made was that if you find all the rewards tickets taken for a route that you are looking for keep trying for a while, because sometimes seats will be made available later. This actually just happened for my girlfriend when we were booking our tickets to Bangkok for this fall. Her patience and persistence paid off handsomely.
Another reader recently suggested that I point out that it is a really good idea to take full advantage of airlines' bonus miles for when you (or your employer if you are lucky!) have to buy airline tickets the old fashion way. For instance take a look at American's AAdvantage Bonus Offers. There you can see how you could earn up to 50,000 bonus miles by flying roundtrip between New York and Los Angeles or San Francisco – truly amazing. If you need to pay for a ticket anyway you may as well try to maximize the amount of points you can acquire.
The other airlines of course have these kinds of offers as well. Check out United's bonus miles promotions. You can see that they are currently offering similar coast-to-coast bonus miles to American's. Likewise, as you check out the different ways you can earn bonus miles on the various airlines' websites make sure to also pay attention to how you can earn these extra miles with other vendors that they work with. As an example one of Delta's hotel partners is Marriott, and they are currently offering up to 5,000 miles per stay at any Marriott in the world. If you travel a lot already, then this is one of many ways you could be racking up the points incredibly fast. You could end up getting rewarded with that possibly much deserved vacation much sooner than you might have ever thought possible.
Well, that's all for today. Thanks again to those who have written me with questions and ideas. Please keep them coming!
Travel well and save money!