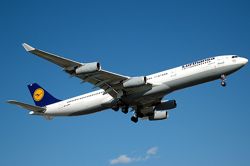 As just about everyone knows one of the best ways to reduce the total cost of your trip is to be able to use frequent flyer miles to purchase your airline ticket (or possibly even your hotel stay, but I will focus on airfares here). If you have enough miles the 'purchase' will either be completely free or only for some minimal amount of taxes and fees. The key of course is to have enough frequent flyer miles saved up in order to take advantage of these free or almost free tickets. I LOVE flying for free, and I also LOVE taking advantage of credit card companies whenever I get the chance. They try to abuse me, so why shouldn't I abuse them?
Below are some ideas for how to best maximize the number of airline points you accrue, and next week I will try to give some guidelines on how to best use those miles for airfare purchases once you have built up your airline points war chest.
First try to focus on awards programs that allow you to use airlines that are more convenient for you. Much of this will depend on which airport you tend to fly out of the most and which airline you tend to fly the most. If your airport is a major hub for a particular airline then that airline's frequent flyer program is one that you might want to join. Likewise if you happen to fly a lot for you job or whatever on a particular airline then of course that airline would also be one you should consider.
Also find out who the airline's alliance partners are. Sometimes an airline's frequent flier program doesn't have a seat available due to blackouts, not enough frequent flyer program seats, etc. Or perhaps you want to save points for a big overseas trip sometime in the future, and not all airlines fly to every single region of the world. Know that you can often use frequent flyer points on the flights of alliance partners which can be extremely useful for these situations.
Once you have figured out which frequent flyer programs you should focus on sign up for them ASAP if you haven't already done so. Then try to find the best credit cards for those frequent flyer programs. You should focus on credit cards that give you a MINIMUM of one mile per each dollar you spend on that credit card. And often times a credit card will give you bonus miles for certain kinds of purchases or minimum total amounts purchased within a year. There are also credit cards that allow you to accumulate points that can be used to purchase tickets on just about any airline, so make sure to take a look at those as well.
Here are some websites you can use to find the best offers: CardRatings.com, CreditCards.com, and CreditCardGuide.com. Make sure to also keep in mind annual fees and interest rates which can easily eat up your savings. A few times I have gotten some seriously large bonus miles just for signing up for a card, but when I do this I almost always cancel the card before the first year runs out in order to not have to pay an annual fee for the following year.
Once you have a good credit card established for a points program then try to use it whenever you make purchases, especially if particular kinds of purchases will allow you to accumulate bonus miles. And whenever possible set up payments on monthly recurring bills, such as for a cell phone or gym membership, to automatically be paid with this card. I remember reading in a study somewhere that like 60% of frequent flyer miles are now earned for non-flying related activities, so make sure you don't miss the boat here. At the same time however DON'T make any unnecessary purchases just for the sake of earning points. That would be falling right into the credit card company's fiendish plans of indentured servitude.
And of course you should accrue points the old fashion way by actually flying with your chosen airlines whenever feasible. If you can fly with them enough you might even be able to obtain an elite status with them where you often can get bonus miles on top of your regular miles. If I am the one paying for a ticket I of course typically will purchase the cheapest one for the route I need to fly, but there are times I pay just a little more for my ticket in order to get those miles onto my favored awards program.
And last but not least, make sure to keep up with the miles that you are accruing. Mileage programs sometimes allow some or all of your points to expire if there hasn't been activity within a certain amount of time, usually within like 12-18 months. I use Points.com
to help me keep up with the total number of miles I have with various airlines as well as find out ways to increase my mileage accruals, but I still need to occasionally visit the individual airlines' sites to make sure an expiration date doesn't catch me by surprise. If you do find yourself about to lose a big chunk of points due to non-activity, call the airline to see if you can make some sort of small purchase using only like 500-1000 miles. I did this with United earlier this month and it added 18 months to the life of my unused points.
If you have any other golden nuggets on this topic please put them in the comments section for everyone else to see. And again, next week I will write about how to best use your airline points once you have accrued a significant amount of them.
Travel well and save money!