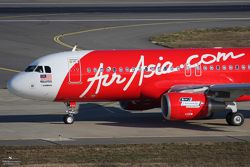 The big airlines of course account for the majority of flights in the world, and sometimes, although not always, they are the only game in town for the route that you are looking for.  However, budget or low-cost airlines often fly routes you are looking for at extremely great rates, and they are continuously expanding the routes that they fly, both domestically and internationally. And although some of the budget airline flights and deals get covered by the aggregator sites like KAYAK.com or Wego.com, not all of them do. So it can definitely pay off to check directly with the budget airline websites when you are making your plans.
Here is a perfect example for you. As I mentioned a few weeks ago my girlfriend and I recently booked tickets to Bangkok using airline miles with United. We plan to use Bangkok as kind of a hub for our multi-month stay in Asia, and one of the places I really wanted to visit while in that part of the world was Myanmar. Well, I knew that AirAsia, my favorite budget airline in Asia, now flies to Yangon. And I also knew from past experience that AirAsia, like many non-US budget airlines, will sometimes have amazing sales where the airfare is actually free and you only pay for the taxes and fees. I intentionally kept up with the sales going on at AirAsia, and lo and behold last week I found and booked 'free' round-trip tickets for us from Bangkok to Yangon. The TOTAL cost for each ticket with all taxes and fees (including baggage fees) was like $51. The cheapest tickets I could find on a major carrier was on Kayak with Thai Airways for $328! I think we can all do the math there.
OK, I can hear at least a few of you snickering in the background, saying things like "Does that ticket come with a free parachute?" or "If I were to buy a ticket like this should I up my life insurance policy?" Well, I can attest that I have flown AirAsia many times already, and most of the planes seemed practically brand new. And they probably are, since they are such a relatively new airline. Basically I felt just as safe and secure as if I had flown any carrier in the US or Europe.
However I will also say that these budget airlines will charge you for just about any extras. Like if you want a Coke or a snack on your flight, you will have to pay for it. And like what most of the big airlines seem to be doing anyway too, they charge you for checked baggage. If you pay for it ahead of time though while you are booking your ticket online it is actually pretty reasonable – about $18 out of the $51 tickets to Yangon was for a bag weighing up to 20 kg (about 44 lbs). I don't like paying fees anymore than the next person, but I am more than willing to pay these for the chance to literally save hundreds of dollars. Again, the math is pretty easy.
So how do you know which budget airlines cover which routes? Well the best website that I have found for this kind of information is Whichbudget.com. You can do a 'Quick search' by typing in specific airport codes to see which, if any, budget airlines fly between those airports. Or you can use the dropdown boxes by 'I want to fly from…' or 'I want to fly to…' to see which airports are serviced by which budget airlines. It covers both domestic and international flights. It will not give you any prices, but you will then know which airlines you need to do searches for on other websites.
As I mentioned previously some of these airlines get covered in searches by the aggregator sites like KAYAK.com and Wego.com, but even when they are these aggregator sites don't always show the very best deals that the airlines have. In fact, this is exactly what happened when I was looking for those Bangkok-Yangon flights. Wego did show an AirAsia flight, but it didn't show the free one. So even though I always check with the aggregators, I also always check directly with the airline's website.
Likewise, especially if you know at least a month or two ahead of time where you would like to go and which budget airlines cover the routes you are interested in, it is a really good idea to register on the airlines' websites for those airlines' email alerts for their special deals. Usually those offers are limited in time and in numbers of seats, so the sooner you are aware of those great deals the better. I have flown for 'free' many times on AirAsia, usually because I was notified early enough with these kinds of emails.
So if you really want the chance to save money on flights you need to try to incorporate the low-cost airlines into your planning whenever you can. You can also check out the airfare section of my website for other tips and strategies for finding cheap airfares.
Travel well and save money!