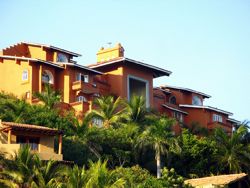 In my continuous quest for finding new and better ways to travel well on a budget I get (and look forward to!) suggestions from friends, family and other visitors of this site. Recently my friend Mary told me about her experiences with timeshare rentals. Yes, yes, I know that the thought of timeshares give some people a really bad feeling – perhaps conjuring up visions of sleazy, high pressure sales people trying to get people to commit to financially imprudent decisions.
But no matter what the merits or demerits are for timeshare ownership, in my book the idea of renting someone else's timeshare is definitely something every budget traveler should at least consider. And this is especially true for people needing lodging for a large group or family, because a timeshare often has multiple bedrooms and bathrooms, and a kitchen – think fewer restaurant meals and $4 coffees. Likewise, keep in mind that many timeshares are actually resorts, some quite posh, where you have resort activities and amenities that hotels often don't have. So if you are looking for higher end digs without the high-end prices this could be perfect for you.
In Mary's case she learned about timeshare rentals as she was trying to help her parents get back some of the money they invested in their own timeshare. Yes, it appears they were 'victims' of some of the less scrupulous sales tactics that timeshares are unfortunately famous for. However, as Mary pointed out, when lots of people are trying to rent out their own timeshares there are potentially some great deals to be found by people who just want to rent as opposed to own. This is especially true in places like Orlando, Florida or Cancun, Mexico where the latest real estate boom and bust along with a weak economy in general has saturated the market with underused properties. As everyone knows it's all about supply and demand, so now is an especially good time for potential renters of these properties.
So how do you go about finding these deals? Well, there seems to be quite a few websites that handle timeshare rentals, but the one that stands out as the best and biggest one is RedWeek.com. This also happens to be the one that my friend Mary used. Timeshare rentals beat hotel prices
at Redweek. They have more listings than anyone else, and they have a AAA rating from the Better Business Bureau, always a MAJOR plus to me. Much like HomeExchange.com
for home exchanges, you can view the timeshare rental listings for free, however you must pay a $14.99 per year fee to Redweek to be able to contact the owners about their respective properties.
If anyone else has had experiences, good or bad, with Redweek or any of the other timeshare rental websites, please let me know.
Travel well and travel often!