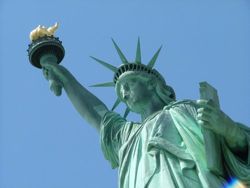 Today I am about half way through a great three week stay in New York City which has made me think that I should write about HomeExchange.com
. It has been a blast exploring this great city again which is one of the most interesting and fascinating places in the whole world. But of course NYC is not known as being an inexpensive city to visit, and the typical budget for an extended trip here would definitely have prevented me from coming. There are several things my girlfriend Shelley and I have done to keep our costs down while still fully enjoying what New York has to offer, but by far the most important thing is that Shelley did a home exchange with a guy in New York – we are staying in his apartment in Manhattan while he is staying in Shelley's house in Austin.
This is huge! Home exchanges are a real game changer when it comes to budget travel. Just think about this trip we are on now. By staying in someone else's place we don't have to pay anything for hotels – nada. Just go to HotelsCombined.com and do a quick search for hotels in New York to get an idea about how much we are saving. That website pretty much finds the best deals on hotels you can find, but even the best deals in NYC can break the bank of a budget traveler. I just did a quick search myself, and wow! To stay in Manhattan you most likely are going to have to cough up like $200 per night to stay in a decent hotel.
And the savings don't stop there. Since we also have access to a kitchen we don't have to go out to eat every single time we get hungry or go to a coffee shop every time I need a caffeine fix (I admit it, I am the one with the addiction). Cha-ching! Of course eating out in New York with its incredible number of great restaurants is definitely something you must do to fully enjoy this great city, but instead of eating out three times a day we typically only do so like once per day. And it's not like I feel like we aren't truly experiencing New York because of this. Quite the contrary! Now we go to a farmers' market just a few blocks away as well as some other local stores to buy fresh fish, vegetables, cheese, freshly made breads and whatever else and cook some really great meals, just like the people who live here do. Being from Texas I don't get many opportunities to walk from my abode to buy daily necessities, and I actually find that it's pretty fun. It's definitely a part of my overall experience in New York that I really enjoy.
So what's the best way for you to do a home exchange? Well there are a fair number of websites that focus on helping people exchange their homes with others, but by far the biggest and best one is HomeExchange.com
. They now claim over 33,000 listings from literally all over the world (Paris, London, Tokyo, Hong Kong, etc.), and their website is easy to use. Likewise, they have lots of great information in their FAQ section for anyone who wants to learn more about the ins and outs of home exchanges in general. You can view their listings for free to get an idea of what is out there, but in order to actually communicate with the owners of the properties you will need to join at a reasonable cost of $9.95 per month for a one-year membership. If you are interested in looking into doing a home exchange I highly recommend that you check it out.
Travel well and travel often!