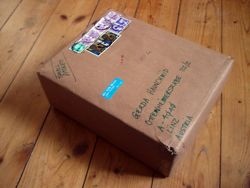 Fellow travelers, please welcome my good friend and guest blogger, Kevin Brown. He and his wife have done their fair share of traveling the world, and he would like to share his thoughts and experiences on shipping fragile items back home.
Like most of you, I love to travel.  And while business travel keeps many of us on the road more than we would probably like, there is nothing like the thrill that comes with packing light, grabbing your bag and heading out to that next exotic destination.  In the last couple of years I have been fortunate enough to see Southeast Asia, Mexico, Cuba, and Africa – each of which holds a special place in my heart.  Those memories are only reinforced when walking around the house taking in the collection of art, photos, and other small tokens representing the places that my wife and I have been fortunate enough to visit during that period of time – hopeful that our collection will continue to grow in the years ahead.
Despite the fact that we all take great pride in our travels, each of us hopes that we will be fortunate enough to bring a small token representing that last great trip home with us, regardless of how inexpensive or insignificant it may be.  The question then becomes:
"How can I make sure to get my newfound keepsake home in one piece without spending a fortune to make it happen?"
As a person that makes their living in the logistics industry, I am here to tell you that based on what your treasure may be, how fragile it is, and the distance it needs to travel – it is not as simple as you may think.  I know, as I recently experienced a loss that would have been entirely avoidable if I had taken the appropriate measures.
This past May, while traveling in South Africa my wife and I had the opportunity to travel through the mystifying wine country outside of Cape Town.  Throughout our journey, we assembled a small collection of wines, olive oils, preserves, and other miscellaneous items that we thought we would enjoy upon our arrival home, not thinking of the manner in which we would actually get the merchandise home.  At the conclusion of our travels, we were faced with two options.  One, we could try to pack it in our bags.  Two, we could ship it though a reputable company, ensuring its safe arrival.  There was a third option, but we will get to that later.  Not wanting to lug the extra weight around in a bag, and certain that one or more bottles would ultimately be broken somewhere along the line – we opted for the option two.
Without going in to all of the sordid details, here is a summary of the events.  I took it to a local shipping center packed and secured the shipment for transit.  The cost for packing and shipping?  Approximately $240, which far exceeded the actual monetary value of the items shipped.  Next, I was informed that the shipment arrived a the local terminal and was available for pickup.  The cost to retrieve the merchandise from the terminal? Approximately $40 in customs fees, which the local shipping agent in South Africa overlooked in telling me as I was having them prepare the shipment.  This does not even begin to address the cost in time associated with undertaking this project.  Upon finally retrieving the shipment you can imagine my dismay when I discovered that my 'shipment' was little more that a soggy container full of broken bottles and packing materials.  A total loss.  So the expense associated with this effort totaled somewhere north of $350.  To say that we were disappointed would be to put it lightly.
So when you find that perfect item, especially fragile items like those we purchased but were never able to enjoy, let me give you some advice I wish I would have been given prior to our most recent adventure:
Based on the cost and hassle associated with shipping items home, ask yourself how much you really want or need that item, or is there something more manageable that you can bring home with you that holds special meaning and can be enjoyed for years to come.
If you have your heart set on something that is especially fragile and cannot be secured otherwise, use the services of a professional cartage company recommended by the retailer or dealer for the particular item, making sure to properly insure it in the event of a loss.
Oh, and as for the third option I mentioned earlier.  For items such as wine or other consumables, only buy what you want to enjoy while you are at your destination and inquire as to whether or not there is a distributor in your local country that can ship the product to you.  In our case, almost all of the product we intended to bring back could be shipped to our home from a US-based distributor – which we ultimately did in order to replace what was lost.  It may not be nearly as romantic or thrilling, but at the end of the day it is less expensive and a lot of frustration could have been avoided.
Safe travels and we will see you on the other side.
Kevin Brown is Director of Marketing for a logistics and transportation company.  He lives in Austin, TX with his wife, two dogs, and a cat that thinks he is a dog.  When not burning the candle at both ends, Kevin enjoys the outdoors, recreational travel, and sampling the latest wine offerings from around the world – in boxes and bottles.