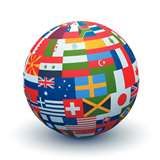 There are many things people can do to help them see more of the world without needing to have lot of money to start with, and teaching English abroad is definitely one of them. I taught English in Japan several years ago, and it was one of the best travel experiences I have ever had. I worked about twenty hours per week, which is considered full-time, at one of the many private English as a second language (ESL) schools while living in a nice garage apartment in Kyoto, one of the prettiest cities in all of Japan. I did this for about five months, although schools usually require people to sign up for at least a one-year contract. One of my brothers started teaching in Japan a few years after I did it, and he ended up making a permanent career out of it, mostly because of the benefits and lifestyle this kind of work can afford you.
So what ARE the benefits to this kind of work? First of all, you are of course actually living in a foreign country, experiencing and taking in the culture on a much deeper level than the typical visit as a tourist. I am not knocking being a tourist at all, I do it often myself, but there is only so much of the local flavor that you can truly absorb in a comparatively short amount of time.
Teaching also doesn't tend to take up as much of your day-to-day time as a full time job in the '9-5' world, and this gives you the extra freedom during the work week to explore the area and enjoy what it has to offer. And on that same vein, teaching usually gives you a pretty significant number of days off throughout different parts of the year to travel or do whatever else you like to do. This was by far one of the biggest draws for my brother to make teaching overseas his profession, because it gives him two to three months out of the year to travel, one of his passions just like it is for me.
And although you definitely will never get wealthy teaching overseas you can certainly make enough money to pay your bills, enjoy your stay, and still be able to save money to travel or do whatever else you'd like. Do keep in mind though that differences in pay scales and costs of living as well as fluctuating exchange rates make teaching in some countries more financially appealing than others. For instance, from what I have heard teaching in Saudi Arabia or some of the other oil-rich countries pays really well, but the downside is that you often have to live pretty much separated from the locals. I've likewise heard that although pay is higher in Japan than in nearby Korea, you can usually save more money in Korea which has a much lower cost of living. Definitely do your research to know what to expect.
And probably the best place to start your research is Dave's ESL Cafe which was started by an ESL teacher named Dave Sperling back in 1995. The site has grown to become one of the best sources of information for teachers and prospective teachers of English as a foreign language all over the world. It has job forums, teacher forums, and even student forums for different counties. It also has links to other useful websites and articles that can help you get the information that you are looking for. If you or anyone you know might be interested in learning about the possibilities and opportunities for teaching English overseas then this is the place to start!