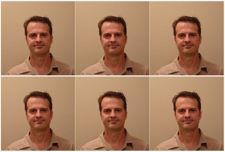 I don't know about you, but I think how much money various stores charge for passport and visa photos is pretty ridiculous for what you get. You basically receive two small photos (let's face it – more like mug shots from the police station) for anywhere from $9-15. And if you regularly need these kinds of photos for yourself or especially if you have multiple family members you need them for then this can end up costing you a chunk of money that would be much more fun spending on something else. On top of that you have the hassle of driving somewhere just to get the deed done.
Well, I recently needed to get a couple of these photos for a new Indian visa for our upcoming trip to Asia, and I thought to myself, "You know, there must be a better way of doing this than the old fashion way." Well, ladies and gentlemen, as long as you have a digital camera then there truly is.
After a little googling around I found a few websites that helped me easily create my own visa photos practically for free. I first took some photos of myself keeping in mind the U.S. State Department's guidelines for travel photos. Then I went to PortraitBooth.com which doesn't require registration or the payment of any fees. I first clicked on the 'Start photo booth!' button. I then browsed to find the photo I wanted to use and clicked on 'Submit'. At this point I went through the rest of the easy directions for cropping the photo and came to the final step which is on the 4th tab and is labeled 'Download' (see at the top of the screen).  Instead of using Snapfish in Step 2, I just clicked on the small photo in Step 1 to download the image onto my computer. That one image will print off onto a regular 4X6 photo which will in turn contain 6 heads shots for me to use. I can easily print this 4X6 off using my handy dandy Canon home printer and cut the photo with scissors as needed. And if you don't happen to have a printer at home to do this with, then you could easily have prints made at your local store of choice, still much, much cheaper than having these photos made the old fashion way.
This really is as easy as it sounds. And here's another little travel tip – when I travel overseas I like to have some extra little photos like these already printed off for whenever that random need arises. This is always a good idea, not only for cost reasons, but also for convenience reasons. And now I plan to also keep this 4X6 image file tucked away somewhere in either my Yahoo or Google email account just in case I need a quick inventory replenishment while on the road. No more giving away my money unnecessarily to any of those passport/visa photo services!
Travel well and save money!