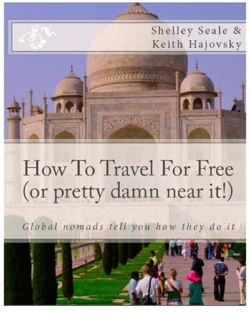 As any of you past readers know by now I am very big on traveling as often as I can for as little money as possible. That's been very important to me for decades, and my girlfriend, Shelley, has been just as adamant of a traveler for just as long. And when people hear about our various stories of galavanting all around the globe, they constantly ask us, how can we afford to do all these things? They are usually mystified and envious, and they often will sigh and say something like, "I wish I could afford to go to Europe or Asia for two months." But the truth is, most of the people who say this have far more financial means than we do. They could do exactly what we do, if they only knew how.
Conventional wisdom says you have to be rich to travel the world and experience different cultures. But believe me, we are not! Throughout the years we have figured out different ways to see the world on little or no money, and we have put our experiences and knowledge about this kind of travel into our new book, How To Travel The World For Free (or pretty damn near it!).
This book is our own personal account – this is how we do it, along with additional resources we have picked up from fellow travelers, friends, travel writers, and the hundreds of travel books, magazines and websites we've read or written for over the years. It is not meant to be a comprehensive guidebook of everything cheap-travel related, but more of a handbook of our own personal resources and tips. Using the exact methods that we outline in the book for you, we have done things like:
Stay in a studio apartment in Barcelona for a month, completely for free.
Take a two-week vacation to Hawaii for the cost of airline tax, using frequent flyer miles for the tickets and staying in a two-bedroom duplex for free.
Travel around Asia for nearly two years, on surprisingly little money – less than half the cost of living at home.
Spend nearly a month on the Upper West Side of New York City in a free two-bedroom apartment, and use dirt-cheap air tickets to get there.
And on our trip throughout Asia this fall we will be incorporating and blogging about the many of the travel tactics covered in this book. These ideas are not pie-in-the sky, out of reach to the average person, kinds of things to do. Normal, everyday people can incorporate at least some of these concepts into their travel planning tactics and see more of the world than many people ever even dream of.
Sure, I am obviously biased, since I co-authored this book. But I do genuinely believe that if you or someone you know wants to learn how to see and experience the world without the need to have or to spend large amounts of money like so many in the travel industry will have you believe, then this book can serve as a useful, time-saving guide for realizing dreams of independent travel freedom.
May your travels go well!