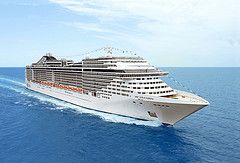 Because of the economic downturn and 14 new cruise ships coming online right at the same time cruise prices were truly amazing for consumers in 2009. Cruise Lines International Association (CLIA) said that the number of passengers that cruised in 2009 still surpassed the 2008 number to keep its continued long-term growth pattern. The organization stated in its 2010 forecast, "CLIA, its member lines and travel agents, have adapted quickly and effectively to the global economic downturn in order to keep ships sailing at full capacity throughout 2009."  This is a nice and pretty way of saying that they had to discount the heck out of their prices in order to fill those ships. And from what I have seen across the many articles I have read prices were discounted probably the highest percentage that they ever have been since CLIA was founded in 1975. Sure wish I had made the time to take a cruise last year, because I love a good deal!
And now the majority of the cruise companies and their agents are predicting strong growth for 2010, unlike so much of the rest of the travel industry. Supposedly 83 percent of the cruise agents are predicting a 10-20 increase in booking volume during the January through March 'Wave Season' which is the busiest booking time of the year. And the industry constantly reminds everyone that approximately 80 percent of Americans have still never been on a cruise and that cruises are perceived as providing extremely high entertainment value for the money by consumers. Given all this they are predicting that prices will go up from 2009's rock-bottom rates.
However, the industry pundits still think that prices in 2010 will remain below prices from a few years ago. In other words there are still good deals to be found. And now there are more ships and more destinations to choose from than there ever have been. This can only be good for anyone looking to take a cruise.
If you are interested in finding out more one of the absolute best websites to search for and book a cruise on is CruiseDirect.com
. This site covers 15 different cruise line companies, and it has an easy to use 'Cruise Finder' search tool. Likewise, there is a 'Last Minute Cruises' section that also includes a 'Top 10 Deals' section for anyone looking for a truly great bargain. All these things make this a great website to search for and book a cruise online
.
Travel well and travel often!